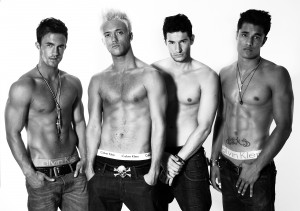 Move over all you girls bands…. the boys are back!  They sing, they dance, they look HOT… Prepared to be bowled over Britain's hottest new boyband VICE.
With their infectious melodies and smouldering looks, Scott, 22 from Scotland, Luke, 22 from Essex, Kevin, 22 from Liverpool and 18 year-old Staz from Russia, have all the ingredients to cook up a storm in the charts and leave hearts melting across the UK.
Sharing a passion to sing, write and dance, the ambitious and talented foursome have spent the past year mastering their craft and preparing for their onslaught into the pop world.
Debut single Bounce is a classic slice of gritty mid-tempo pop – the hard-hitting lyrics, heavy electric bass and an infectiously catchy chorus will make it impossible not to get up and dance.
The boys have all had professional modelling experience for the likes of Harvey Nicolls, H&M and Sony Ericsson.
Debut single  released 7th December