Take Me Back To Tel Aviv (Israel)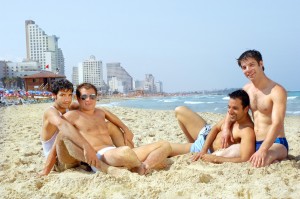 It's fair to say that since August, when a lone gun-man shot dead two young gay lads and injured 10 others in Tel Aviv, which led to a temporary closure of the cities gay nightlife, Israel is seen as a homophobic and violent place to visit. However, we sent a nervous Simon Savidge to find out what happened and what the city, with a huge gay population, has to offer in future.
Once you arrive in Tel Aviv and get used the cloudless sky, the hot temperatures and the attractive men, you are instantly hit by the warmth of the people. Everywhere you go, should you be walking along the shopping streets, in the markets, on the beach and in the bars, anyone and everyone will happily talk to you. "And that is why people were so shocked by the shooting." Said Shai Doitsh, National Board Member of Gay Tourism. "We don't have homophobic things happen here in Tel Aviv, it's a very cosmopolitan forward thinking city. We don't have a gay ghetto as bars can be everywhere and anywhere. You can see gay couples kissing and holding hands and no one cares. That's because, after compiling research, we discovered that around 35% of Tel Aviv's population is gay."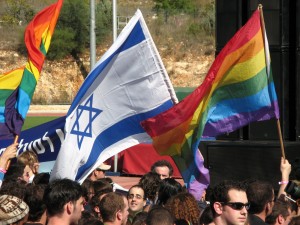 Though there may be some dispute about that exact figure there is no disputing that people don't bat an eye lid to both female and male couples kissing and holding hands in the street. In fact, it was possible that is was me who was the most shocked, as even in London, unless you're on Old Compton Street, people still stare. On my tour through this, the second largest city in Israel, we stopped at the community centre and saw the huge amount of candles outside. My guide Igal Zeevi said "It shocked people so much, even the Prime Minister came to see what had happened and to urge people to try and find whoever did it. As a straight man in Tel Aviv there are gay people all around you and I am out all the time with them. We have a community culture and it was shocking that this happened."
The city does have huge community spirit. Later on the tour we visited the actual 'Gay Centre' for Tel Aviv, (which isn't as reported where the shooting happened) which sits in one of the cities most beautiful parks and not too far from the gay beach. "You see," Igal adds laughing, "the gay community run this town… they get the best park for their building and they have the best beach". The centre is quite something; it has a café, a baby-creche for gay couple's children, its own small hospital and medical centre and dance studio. There are classes for acting, safe sex, dating, you name it and they will have it… Clearly not a sign of a city with a dark underlying homophobia.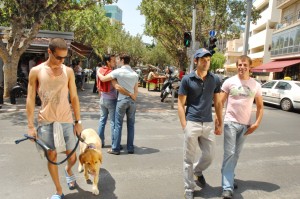 So, what apart from the forward thinking does the city have that weould attract the gay tourist? I mentioned the endless sun and the gay beach, which alone make it the perfect getaway. There are also the men. Walking into Evita, one of the city's ever growing number of gay clubs, you have every sort of man you could wish for under the one roof  – twinks, latino's, bears, curious, straight!!. There is also the endless shopping opportunities in little boutiques and markets in Neve Zedek, the history of the old Jaffa Town to explore, plus the movie set like art deco White Town, with its amazing restaurants – the food in Tel Aviv is just awesome. It is the perfect short or long stay destination to relax and enjoy the good things in life. Plus the next 12 months are going to be the perfect time to go as Shai explained. "After the success of our own Pride event we want more parties and so, very soon, we start the Love Weekends, which are going to just make the city even gayer". He looks at me quizzically. "You must tell everyone… it is going to be brilliant."
Simon Savidge travelled to Tel Aviv with Gay Tel Aviv and BMI Packages start from £544 per person based on two sharing at the luxurious Neve Tzedek hotel for three nights from Thurday to Sunday in
November, includes return flights with BMI and all taxes.
Photos courtesy: www.glbt.org.il/tourism.php