Riffs and Rays… From Nasty Girl to Gaga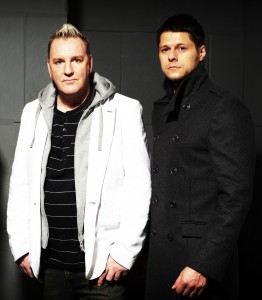 World domination? At the rate these boys are gaining fans, it surely can't be long before they're household names just like the Freemasons. Internationally acclaimed producers and DJs Riffs & Rays (Sheffield boys Phil Pendlebury and Dave Dennison) first became noticed when their massive reproduction of Inaya Day's Nasty Girl became a huge hit around the world back in 2005. Since that time, their work has been played on thousands of gay dancefloors worldwide, with other big profile remixes including Danni Minogue, Barbara Tucker, Masters at Work, Chaka Khan and Mary J Blige.
More recently they've twiddled the knobs for Lady Gaga's 'Just Dance' and Michael Jackson's 'Billie Jean' (just a month before his untimely death. "Both of us are huge fans of MJ… especially the Quincy Jones productions. It was an honour to do that remix and needless to say some tears were shed when he passed on. It's unlikely the world will see such talent again."
Up until recently, the boys have seemed content with staying out of the limelight and letting their music do the talking, but big profile gay gigs this year have meant that we finally get to put faces to the names. At this year's Manchester Pride they took over the main stage with a full DJ set, alongside a live band.
"Manchester Pride was awesome! We were really keen to present something a little more interesting than the usual, so we put together a short show, including Phil on guitar and vocals, plus two PA appearances – One from Mumzy Stranger and also the lovely Holly Johnson who sings lead on our track Miss You."
"We were joined by Fish the percussionist and Little Rich on sax. It was like having a full live band up there. After we came off we all wished we could have gone on longer and later… when it was dark. The crowd were great, really buzzing and after hearing all the positive reports, we can tell you – it's something we plan to do a lot more of."
Appearing on the same stage as Little Boots and Peter Andre… surely there must be some gossip to spill? "Nah, we're pretty boring really and both had gigs that evening so we didn't hang out after. We only really spoke with Kelly Llorenna & Love to Infinity. Apparently Bananarama, who were there on Friday, said some kind words about our mix of their track 'Love Comes'."
Their recent DJ set at London's XXL at The Arches ranks as a memorable experience for them too and it seems like they connect perfectly with a gay crowd. "The place reminds me of an underground warehouse! It was rocking at midnight and stayed that way until 6am, the atmosphere was amazing! It also has an amazing sound system and lighting rig and the guys running the rig obviously really care about it."
"Gay clubs tend to have a better atmosphere, less tension – everybody is just up for a good time & the crowd tend to be more clued up with their music too. In all honesty the best UK gigs tend to be in gay/mixed venues"
Riffs and Rays first met through the original 3rd member of the team, Jason Havenhand, who left last January to work on other projects. The boys are keen to point out that they remain good friends with him (and there was I hoping for tantrums and drama a la The Sugababes). Back to the track that started it all for them, 'Nasty Girl' a song I always associate the Eddie Murphy in Beverly Hills Cop. Was that where the idea came from?
"Ha ha nope. We were really impressed with the vocal acapella and had an idea to mash it up with Michael Jackson's 'Don't stop'. We then replayed the whole thing so that there were no samples and changed the music so that it retained the feel but was all our own work. The track was then used as the Official UK radio Edit and we made it into the top ten in the charts…..  Thanks everyone!!"
Recently, one of their most interesting projects is working with one of the few singers in the world deserving of being called a Legend… Thelma Houston. The plan is to remix and launch the 2009 release of her disco classic 'Don't Leave Me This Way'. "Yeah she is a total legend. She was the first female at Motown to win a Grammy!  We are so excited to work with Thelma."
So, who would they love to work with in the future? "We're both massive fans of Kylie." I couldn't have asked for a more gay answer. "Have been since the Stock Aitken & Waterman days. Of course it would be pretty neat to do a Madonna track too."
You can find out more and listen to their latest tracks at www.riffsandrays.com.