No pregnant pause – By Lee Hudson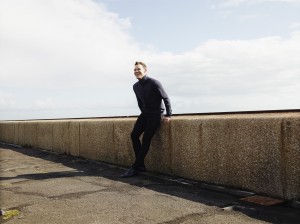 It doesn't seem like seven years ago that Will Young hit our screens as a contestant on Pop Idol. Like many viewers, I was more in the Gareth Gates camp because the lad was younger, better looking, had a tremendous sob story (surmounting insurmountable odds with his stammer) and sang like a choirboy. That was until I saw Will Young rip the stage apart with his wonderful interpretation of the Jose Feliciano song Light My Fire. I was amazed at the passion and the sheer dynamics that a young guy, who was really just an amateur, brought to a rather mediocre talent contest. From that moment on, I became a Will Young devotee and my admiration for him has not dimmed in the intervening years.
I loved the way he stood up to Simon Cowell. I loved the way he came out. I loved the way he unapologetically responded to questions about his sexuality but most of all… I loved his voice.
His first hit, on the back of Pop Idol, Evergreen was the fastest and biggest selling record of that year and proved that the lad from Wokingham in Berkshire had a style all of his own. The first album confirmed it and his total of four studio albums has seen a steady progression in his vocal and song writing abilities
It is only now that Will has begun to reconcile himself to the faintly ridiculous speed with which he was accelerated into the public eye. "When you look back on the start of this, it was crazy." He smiles as he recalls the madness. "You forget going literally, in the space of 3 months, from being at drama school to having 300 people running after your tour bus in Middlesbrough. It's one of those dream stories that shouldn't quite exist. If it looked like a Chesney Hawkes film from the outside, then the truth is… it actually felt like one from the inside, too."
Between albums one and two, Young began exploring his inclinations as a songwriter, encouraged by his manager, the benchmark pop mogul Simon Fuller. "He showed a real belief in me. I was allowed a bigger break than you would normally be between records and Fuller just let me get on with it." Two fundamental meetings were to shape the sound of Fridays Child, the first album delivered as Will Young: Artist. First he was introduced to Steve Lipson, whom he still refers to affectionately as 'Lippo'. "He basically turned into my second dad." The second was meeting Leave Right Now songwriter, Eg White, in his then crummy Shepherd's Bush studio. "Back then it was the time that you went to work with songwriters, particularly in America, and you didn't really do anything. You just picked up a percentage by lying. I got in with Eg in his studio in Shepherd's Bush and he listened to me. He's very sensitive. I'm very sensitive. We actually bonded. Neither of us really fit the mold and it just clicked. After Lippo, Eg was the first person that took an interest in me as an artist rather than me as a way to make a bit of money."
This month sees the release of a 'Hits' compilation but even then he has included something new. The video to accompany the single 'Hopes and Fears' has Will coming to terms… with being pregnant. It's a great twist to a very moody and thoughtful song… although we are all wondering who the lucky 'father' is! One thing about Will, despite being in the public eye he has managed to keep his personal life just that… personal. Rumours about whom he is dating seem to flourish for about a week before disappearing all together… he's not one to ring up Heat to tell them where he's having lunch let alone showing off a new boyfriend.
So, does the fact that it's a hits album mean the lad is slowing down, pausing to reflect on his career? Not really. The man's star is still in the ascendancy, having delighted crowds at Glastonbury, Camp Bestival, Isle of Wight and V Festivals, while over the next couple of months he heads out on an extensive 'sold out' UK tour.
'Hopes & Fears' the single out 8th November
'The Hits' the album out 16th November