Katherine the Great – By Lee Hudson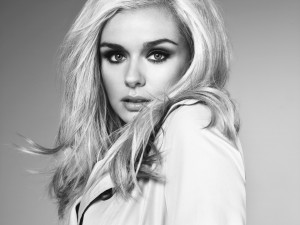 With six successful albums and over 4 million sales in just six years, Katherine Jenkins isn't doing too badly for a lass from the valleys. She is that rarest of rare creatures, a beautiful, down-to-earth woman of immense talent. Not that opera has necessarily got a huge gay following but Katherine has done that wonderful cross-over thing… she leans to the more commercial aspect of music without losing any of her classical appeal. I hope she doesn't mind me saying she also appeals to men both straight and gay.
Believe,
She reaches the dreaded 3 – 0 next year but still looks as fresh and as young as she did when she first appeared on our screens at the turn of the new millennium. Her greeting was sincere and bubbly as she enthusiastically told me about her new album 'Believe'. I wondered if there were going to be any surprises for her fan base.
"Absolutely. Although, for the people who have bought my albums so far it wouldn't be too dissimilar, I'm singing in my own style but there are a few wild cards on there. I don't think anyone thought of me doing Evanescence's 2003 worldwide goth-pop smash Bring Me To Life, which I wanted to do completely differently – more percussive and orchestral – or a version of the Bob Marley song No woman No Cry, which I wanted to feel like a lullaby.
I settle down for a nice long chat as she made me feel so relaxed and the most important person she'd ever met. Not a hint of Diva-ishness (?) about this Welsh songbird, who I believe could charm anyone with her voice. She has dueted with some of the world's top vocalists and I wonder have any been, well, a bit of a pain?
"I'd love to be able to tell you that there have been some Divas…" she giggles, "but there haven't been. People like Andrea (Bocelli) I've sang with quite few times and he's absolutely lovely. In my experience I've found the people who are really, really talented… they are the ones that behave really well… no drama. But the ones who don't really have the talent… or are there by fluke… they're the ones who throw the tantrums."
I suspect that Katherine would be too nice to have a go at anyone… just for the sake of it… but she has got a very impressive list of singers she has performed with but, I wonder, is there anyone she would kill to duet with?
"Something with Madonna. Something that was really different… or Tom Jones… something unexpected."
While I mull over the idea of a Madonna – Katherine Jenkins fusion (I'm sure many straight boys have already thought about that… the dirty little sods) I ask her about her shows for the troops.
"I'm a trustee of the British Forces Foundation and I'm hosting a fund raising dinner in London this month," she says with enthusiasm in her voice. "We hope to raise £100,000 so that we can fund entertainers going out there. Even though we do it for free… the costs of getting the equipment, flights etc out there can add up. I just wish we could get more young performers over there… it means so much to the troops. I'd love to see more people volunteering to do it."
We are used to seeing Katherine at all the big gigs where there are thousands of rugby players and fans but where's the weirdest place she has ever played?
"In Iraq, in an aircraft hanger where the stage was made of two flatbed lorries back to back. As I was singing things like Nessun Dorma to all the squaddies I could see out the back, behind them, all the helicopters and planes landing. I was thinking, WOW this is a one-off experience." She cheekily adds, "Although you can't beat singing to a rugby crowd."
I interject that being a Welsh lady she couldn't really sing anywhere else.
"I'm a big rugby fan as well… and it's a pride thing… I'm very patriotic and what better way to celebrate that than to see all their lovely legs?"
Katherine and I seem to have a great deal in common. However, I change tack(le), after a recent appearance on the BBC's Strictly Come Dancing, I asked if she was planning a change of image as she looked like a siren from the 40s silver-screen.
Laughs "When you go on Strictly every thing is ultra glam and I wanted to do something sleek… and although I didn't realise it… I do like that 40s era. One of my inspirations is Marilyn Monroe so; I think, I always have that in the back of my mind… either consciously or not."
Before the interview came to an end I wanted to ask her about her tour in March… was it going to be just her singing with an orchestra.
"No, it's my first solo arena tour but when recording the new album we had the live element at the forefront of our minds. That David Foster (her current producer) moment… you know that moment Whitney sings in "I will always love you" and it stops… (She sings a few bars and a chill runs down my spine) before she takes the song even further. I want to get the audience up on their feet… because they are moved by the power and emotion of it all." Katherine continues enthusiastically, "Kim Gavin, who choreographed the recent Take That show, is involved so, it will be more of a theatrical production. There'll still be choirs and an orchestra… but much more. At this time, when things are financially a bit tight, I really want to give people their monies worth when they come to see me and hopefully… have a brilliant night."
I'll be there Katherine… give me a wave.
March Tour Dates
3rd – Birmingham NIA
4th – Glasgow Clyde Auditorium
6th – Newcastle Metro Radio Arena
7th – Nottingham Trent FM Arena
9th – Bournemouth International Centre
10th – The Brighton Centre
12th – Manchester MEN
13th – The O2, London
15th – Cardiff International Arena
18th – Liverpool Echo Arena
19th – Sheffield Arena