Learning a Lesson – By Trey Lefferson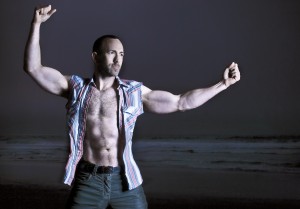 "Disco is not dead," declares Barton.
"I hear a lot of music on the radio today that is very clearly disco derivative, inspired by classics like ABBA's "The Visitors", Yello's "Vicious Games" or Grace Jones' "Feel Up"."
Barton, one of the new breed of American out singers, aims to add a few of his own songs to the list of tracks that will endure on gay dance floors. Two of his singles have already become staples:  the dark extended mix of "Take Me Up" (featured on the soundtrack of the film "Boy Culture") and his ascendant dub of "To Call My Own".
Is he worried about his limited success? "I am not and never intend to be a Madonna or a Depeche Mode" he says. "I'm incredibly lucky to be able to make music that I love.  I will be known and appreciated well by some people – not all – and that is exactly right for me."
What lessons have you learned as an openly gay artist?
You have to take the risk to truly be yourself in order to find what's worthwhile.
Is it still difficult for an out-artist to break into mainstream?
Gay or straight, there's a lot of competition for a musician. A friend who works for a major record label calls part of what he does for a living "pushing people through the looking glass". That's not what I wanted when I set out to do music. Doing things on my own terms is important for me.
How does the new album Lessons Learned compare with your 2008 release, Formative?
Hearing the two albums next to each other is a little like watching a flower open up. The production values and vocal arrangements are far richer and more complex on the new album.  Also, it was a more collaborative effort. I co-wrote many of the new songs with some exceptional artists. You start to hear with other people's ears when you work with other talent.
What was the inspiration behind the last single, On The Beach?
I was in Provincetown, walking alone on the beach with the waves crashing and the sun beating down. I looked up and I noticed the moon was in the sky!  It made me reflect on all the elements around me so, while soaking in the wonders around me, I started thinking about a man I loved, who I missed, and longed to be with. I imagined seeing him on the beach in front of me.
What's your favorite track on the album?
The one that speaks to me the most "Nothing Lasts Forever".  It's about how our lives are finite and the importance of capturing the beauty in each experience.
The notion of celebration seems to be a common theme in most of your songs.  Why is celebration important to you?
That's due to the influence of late 70's disco, which was all about celebrating being yourself. Artists like Sylvester, who made music in San Francisco where Lessons Learned was recorded, used his music to take people to a higher place. That is something I aspire to do in my music.
Does the gay community have reason to celebrate?
We certainly do. The gay community is finally uniting as a group to battle important civil rights issues.
What words do you live by?
Listen to your own voice.
To learn more about Barton, visit Netspheres.net.
Photo: Felix Drobek