Bent Erotic Story – Morning Horny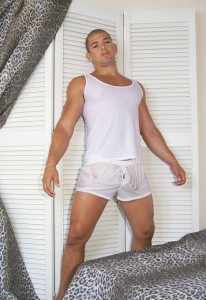 By Les Lea
I love early morning sex and the guy on the chatline called 'MorningHorny' seemed just the type of guy I'd go for. His profile said he was 6'2", athletic build, short blond hair and blue eyes… with a large cock, I thought he was too good to be true but the shots of his cock pushing out from behind various pairs of tight boxers made me want to get in touch and check him out. Early one Wednesday morning I sent an e-mail and he told me to come on over right away as his ball bag was bursting. As I hadn't had such an enthusiastic offer for quite some time I replied that I was on my way.
I arrived at his home within 40 minutes and this hunk, who looked even sexier and hotter than he did in his profile photos, greeted me wearing just a pair of tight white cotton boxers. He was all he said he was, which in itself was quite a change, and he guided me straight to his bedroom. I had noticed his package looked nice but nothing I couldn't handle so, as he eased me out of my clothes, I was looking forward to my morning mouthful. When I was down to nothing but my pale blue nylon briefs he kissed me gently on the lips… but after only a few seconds of this tenderness pushed me to my knees. I knew what was needed. I stroked the front of his boxers and eased his cock and balls through the fly; it was nice, soft, uncut and clean. I set to work licking and sucking immediately… he tasted wonderful and was quickly leaking pre-cum with every lap of my tongue. To begin with I could fit the whole thing in my mouth however, in minutes I was struggling to take even the tip of this huge beast between my lips. How the hell something so small could have grown to that size truly amazed me. I tried my best but I just gagged every time he tried to force it to the back of my throat. I could tell he wasn't happy with my performance as, despite my protests, he still kept trying to frustratingly ram the thing as far down as possible. I licked and nibbled the entire length of his shaft in an effort to give him some kind of sensation that would make him cum. I have to say I was looking forward to experiencing a thing that size spurt all over my face. I saw him looking down at me as I lapped at his piss-slit and I could see he was thinking about something else. I began to feel useless and assumed he was going to tell me to 'clear off' as I'm sure he had a host of guys who could service his needs better than I was. A few minutes later he said that we should get comfortable and guided me to his bed. I was glad about this as my knees ached from being being in this submissive position and I was also happy that he hadn't just told me to go. This boost to my confidence made me even more determined to please him in whatever way he wanted me to. As we stretched out on his bed he slipped his hand inside my briefs and rubbed at my hard cock. It felt wonderful, as this was the first time that he'd made any attempt to stimulate me. I was in no doubt that I was there mainly to supply his early morning desires but was hopeful that he would repay the compliment at some point. He pulled at my briefs then flipped me over on to my stomach to pull them off completely. He then lay across my back and I felt a finger scratching at my bum-hole. One thing I do know is that my arse is tight and my arse cheeks are firm, one of the few things I'm pretty proud of, and he seemed to be pleased about that as well. I heard a sigh of appreciation as a finger sought admission but my tight sphincter just gripped this invading digit and not allowing immediate access. Although I'd been shagged before it was a rare occurrence and something I didn't encourage. However, I heard the bedside draw being opened and a few moments later felt lube being dribbled into my arse crack. I even detected the sound of a condom being released from its foil prison. I turned my head to look over my shoulder and tell him to 'forget it' as I knew I couldn't take that now, even larger, throbbing 'thing' up my butt. He said that I shouldn't worry because he'd be very gentle, take it slow and stop if I couldn't manage it.  Unfortunately, whilst pinned under this athletic stud I found… he wasn't gentle… he just rammed it up and even more of a surprise… I did take it all. For a week afterwards my arsehole was really sore but despite this I wanted a another early morning shag session with this hunk. Sorry to say he never responded to any further emails.