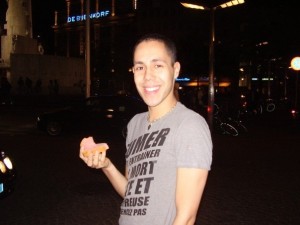 Troglodyte Rose is the new dark fantasy novel from Bent's own Adam Lowe. We thought it might be fun to have an interview by his psychotic, promiscuous alter-ego, Beyonce Holes, where we get down to literary promiscuity, singing for Fatboy Slim and judging Drag 4 U.
Beyoncé: So who is Adam Lowe?
Adam: Adam Lowe is a writer from Leeds. I've written for Fitlads, Bent, Pink Paper, The Leeds Guide and The Local Herald. I'm also known amongst readers of science fiction and fantasy as a short story writer and the owner of Dog Horn Publishing, which publishes a literary journal called Polluto amongst other things. Poetry lovers will know me as a poet. Hard house fans may know me as a curiosity who penned and sung the lyrics to one song by DJGRH and Paul Maddox, released on Fatboy Slim's Tidy Trax label.
Beyoncé: So you're a literary whore then?
Adam: Only in as much as you're an actual whore.
Beyoncé: Touché. So what is it with all the different stuff you do?
Adam: I don't know. I guess I just don't like to let people down. I get asked to judge Mr Gay UK and I say yes. I get asked to judge Drag 4 U and I say yes. I get asked to set up a new gay night in Leeds and I say yes. I think I'm a bit too busy. I'll have no hair left by the age of 25.
Beyoncé: And why do they call you Beyoncé?
Adam: They don't. They call you Beyoncé.
Beyoncé: Where did the idea for this book come from?
Adam: I was chatting to the publisher, who'd already submitted a story to my magazine, Polluto. He was asking for spectacular writers and artists I might recommend to produce books which would be a fusion of art and fiction.
Beyoncé: And you recommended yourself?
Adam: I think it was you who recommended me.
Beyoncé: I get blamed for everything.
Adam: You're an easy target. You're too out there. And you can never keep your mouth shut. It gets us both into big trouble.
Beyoncé: That's like blaming Jekyll for Mr Hyde.
Adam: One did make the other.
Beyoncé: Whatever. And so you came up with the idea on the spot?
Adam: Pretty much. I initially pitched a short story collection that would be illustrated by my pals Kurt Huggins and Zelda Devon. They've currently got some artwork up at the Tor website, and they've worked with all kinds of wonderful people. Previously they won a Silver Award in editorial art from Spectrum Fantastic Art, which was for the cover of Polluto 1. They'd illustrated a story of mine about a woman who was half sewing machine, and they'd won an award for it. I was so proud and blown away by their talent—which is perhaps a little selfish, since it was actually their hard work, but I like to think it was the weirdness of that story that enabled them to create this award-winning piece.
Beyoncé: This sounds nothing like Troglodyte Rose so far.
Adam: I'm getting there. Writers talk a lot. Now the publisher liked their art and my work, but felt a short story collection wasn't quite right, and he wanted a framing narrative. So I came up with an idea that the main character, Rose, would be tapping into the dreams of crazy people, with each dream being one of my stories. My stories would be prose and the overarching narrative would be a comic strip. But then it became a series of drug-induced trips, Rose lived underground and the short stories were replaced by journeys that fit into the narrative better.
Beyoncé: Sounds organic.
Adam: It was. And then I set myself three months to write the first draft and, well, that's what I did. It was fun. I got some other writer friends to edit and proofread it, and then the final book was ready. I'd read a lot of Japanese light novels, which are slim, illustrated novels which specifically appeal to comic readers. As a result the book is high-octane, fast-paced and very visual. The artwork inside complements the very stunning imagery and locations.
Beyoncé: So it's a drug-fuelled orgy of monsters, guns, cannibalism, tits and dicks?
Adam: How did you know?
Troglodyte Rose is available from most good bookstores and quite a few bad ones, priced approx. £8.99. Signed copies are also available direct from the interactive website at: troglodyterose.com.