The Kerry Katona free Iceland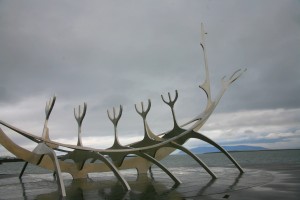 There are many misconceptions about Iceland, but with low cost airliners like Iceland Express offering travellers regular flights, it does make the place an interesting and pleasant city break. Jason McClean packs his overnight bag for a quick look around.
Reykjavik the capital, although small in size compared to major cities in the UK, does cater for tourists with a wide selection of hotels and hostels throughout the city and even campsites for the more adventurous gays!.
Centerhotels Arnarhvoll, based in downtown Reykjavik close to the Old Harbour is situated just a few short minutes walk from the centre. The hotel offers modern Scandinavian designed rooms over 7 floors. The 8th floor, which is the home for the restaurant, offers fantastic views of the mountains and waterside. Arnarhvoll also offers a wellness area where you can unwind. (This is at an additional cost)
The main shopping street in Reykjavik Laugavegur offers tourists a diverse selection of stores ranging from food to clothes to a camp little Christmas shop that is open all year round. Unlike the UK, many of the stores do not trade Sundays therefore, the main street can feel slightly deserted. Don't worry about not speaking Icelandic as English is widely spoken across the country.
A wide range of restaurants are available across this picturesque city including Subway for the not so adventurous to Fiskfelagio a fish restaurant situation just off the old square. The restaurant offers a selection of dishes from fish and meat using Icelandic herbs and spices from around Iceland. A set menu is around 7.900ISK (£35pp)
I would recommend the Reykjavik welcome card, which is available from the tourist information offices throughout the city and is available for 24, 48 and 72 hours duration. The card offers free city transportation, free admissions to art galleries, museums, geothermal swimming pools also tour and shopping discounts.
The capital isn't the main draw though. Oh no. Iceland has some really fantastic excursions to, almost unseen, areas of incredible beauty. It has some of the best spas… for those who love a bit of muddy pampering and of course there's the world famous Blue Lagoon. This hydro-spa, whose hot and mineral enriched waters offer both a tonic and a surreal place to wallow, has to be one of the most iconic destinations for visitors
The currency is Icelandic Kronor, which is not available for exchange in the UK. However, there are cash points in Keflavik airport where money can be easily accessed. It maybe useful to carry an up to date currency converter to assist with your spending (Approx 200 ISK to the 1 GBP)
Iceland Express flies daily from London Gatwick to Reykjavik and prices start from £69.00 one way including taxes.