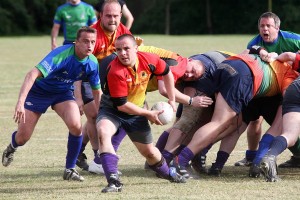 The North West's only gay rugby team, Manchester Village Spartans, were established in 1999. The first game was played against the Kings Cross Steelers, which attracted over 200 spectators. A decade later, the team are going strong and are currently playing in the North West Intermediate Leagues, with over 20 league games against "straight" teams planned for 2009/10 season. The Spartans are also working hard to prepare for the Bingham Cup, an International gay rugby tournament to be held in Minneapolis next year.
The Bingham Cup is a worldwide competition named in remembrance of Mark Kendall Bingham, one of the heroic victims of the September 11, 2001 terrorist action in the USA. The Manchester Village Spartans have played at each Bingham Cup since the first tournament in San Francisco in 2002.
Next year will be the 5th Bingham Cup and will be made up of over 30 gay teams from around the globe. To ensure they are able to send their best team over to compete, Spartans fundraising and sponsorship officer, Dean Bee, is working hard with the rest of the team to raise £13,500 to assist players and coaching staff with contributions towards travel and accommodation costs.
The Spartans will be looking for support from the North West's gay community to help send its team to the Bingham Cup and bring home some silverware. They will be organising a number of fundraising events in the run up to the competition. They also hope to source sponsorship and donations from local and national businesses and there are whispers of a 2010 nude calendar being produced!
Currently there are around 35 members between the ages of 18 and 50 and although the team is predominantly made up of gay players, the Spartans welcome everyone and often field straight players.
"I have played for the Manchester Village Spartans for 2 years now, and it had been 6 years since I'd played competitively. I stopped playing when I went to university as I didn't think the university teams would welcome an openly gay player. I found out about the Spartans by chance and went to one of their training sessions. Within a couple of weeks I was back on the pitch playing competitive rugby again. It was a great opportunity to get back into the game and is probably one of the best decisions I've made! It is lots of fun and a great way of meeting like minded guys who just want to play rugby. The social life is great as well as keeping fit." Gareth Longley, player and committee member.
The Manchester Village Spartans play every Saturday and training sessions are held on a Wednesday between September and April at Sale Sports Club. The team is always looking for new players (and supporters) to join and have specialist coaches to train people of all levels. So if you're a seasoned player, or are a complete beginner, the Spartans want you!
A number of recruitment events are planned over the next few months, the first of which will be held at Taurus on Canal Street from 2pm on Sunday 16th August, so come along and meet the guys!
For more information please visit our website at www.villagespartans.co.uk or:
For recruitment information contact Drew at recruitment@villagespartans.co.uk
For PR & Communications contact Gareth at pr@villagespartans.co.uk
For Sponsorship & Fundraising contact Dean at fundraising@villagespartans.co.uk
All images © Copyright BigBlueBalloon 2009