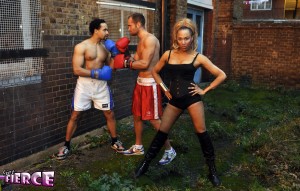 Get Fierce boxing is strictly an LGBT event. Everyone who competes will be gay, lesbian or transgendered. The event is open to the public. Although several of the people who have applied do have experience in boxing/kickboxing, no experience is necessary as competitors will have been trained professionally by gay coach and ABA champion Jimmy Dublin.
From those who are training – a final 12 will be selected to compete in front of a live audience at the Get Fierce event in November – Fight Night staged by Lost the Plot promotions. The evening takes place at the Troxy in Limehouse and will be hosted by Ms Kimberly, followed by a huge after party with live acts and special guests.
Competitors will be matched according to ability (not weight). There will be three, one and a half minute bouts in each match, a total of 6 matches (12 fighters). The bouts will be gender specific (i.e boys vs boys, girls vs girls). Although, as it's a fun fun-raising event they are toying with the idea of introducing a  few tongue in cheek catergories such as (bears and twinks) depending on which competitors make it through!  All competitors will get to choose their own nicknames and theme music for the night.
The idea is to encourage the gay community to get fit again and raise the profile of gay sports. As money from the event is going to Crusaid, the underlying themes of; safe sex will be tied in with the idea of fighting fit and looking after your body.
Homo-vision will be filming a documentary/show following the hopefuls from training, through to selection and the big night itself.