Russia, Peace & a crate full of Coke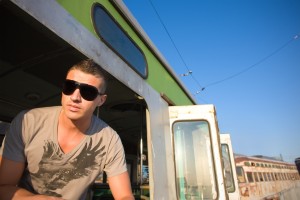 Serge Devant is one of the most exciting new stars to emerge in the world of electronic music in the past few years.
Born in the former Soviet Union where he studied classical music, he's now living in Brooklyn, New York. He become the youngest resident DJ at New York's legendary Crobar and has picked up corporate sponsorship deals that many seasoned DJs and producers would give their right arm for.
He caught my attention last year when remixes of his version of The Beloved's 'Sweet Harmony' were causing a riot on the dance floor during my sets for Federation. The same was also happening across the UK clubs from other major gay clubs from Matinee to Beyond.
Then came his second single, the mesmerizing 'Addicted' with its atmospheric, deep beats and beautiful vocals from Hadley and it was obvious he was no flash-in-the-pan. I caught up with Serge last month, just days before the release of his debut album "Wanderer"
Hey Serge. Thanks for taking the time out to talk to Bent Magazine. What an amazing 12 months you've had…
Yes, it's been quiet a busy past year! Touring and trying to manage my time in order to finish the album – now let's see what happens.
You must be really excited about the release of 'Wanderer'!?
Yes it is pretty exciting to see something you have worked on for such a long time to see the light of day and get lots of great feedback. That's one of the main rewards after spending so much time working on it.
Can you describe the album for the Bent readers? For me it doesn't fit into just one genre such as house?
Well when I sat down to start working on the tracks, there was no particular genre I had in mind.  Of course the singles are going to be dance records but in general I wanted this album to be a sort of journey in music, different genres and moods, but most importantly I wanted to have good songs!
To me the whole idea about making an album is quite exciting, as you can pretty much experiment with any type of music, and make stuff you always wanted to try making without worrying it will sit in your computer forever. I personally liked the whole 80's era, and some beautiful chill-out electronica, and I'm sure I'm not the only one that likes a bunch of other stuff besides just club music. So with that in mind  – "Wanderer" came along!
And where did the album title come from?
Making this album was a journey for me, searching for my sound, and I think a listener will also be taken on a journey when they listen to the album from beginning to end. So "Wanderer" was a perfect name for it I thought.
I've personally played it through about 10 times in the first 2 or 3 days of receiving a copy. There's something very refreshing about the whole composition and it's clear you've toiled over the track listing.
Yes, the track listing took some time to put together. But in the end I think it all makes perfect sense… and it's quite a nice journey from beginning to end. I didn't want this to be an album just full of club tracks thrown together like a mix CD.
One voice really stands out for me on your album and that's Hadley who provides the vocals for my 2 favourite tracks, 'Addicted' and the title track.
Yes Hadley is quite amazing. I discovered her on MySpace actually! When I started working on the album I posted a blog and after digging through loads of profiles and voices, I stumbled upon her. She ended up living just 10 minutes away…so we got together and magic happened!
Coca Cola brought you on-board for the Beijing Olympics with an exclusive track 'Peace on Earth'. How did this come about?
They approached me to write a track for their campaign for the Olympic games that would have to be in sync with a themed bottle which my name would appear on. And the theme was peace on earth! I had written the track "Peace" even before they approached me; so after the meeting I thought it was the perfect time to bring it out and present it to Coca Cola – and they loved it!
And they produced a limited edition Coke bottle with your name on. How many of those have you got stashed at home?
Haha well funny story behind this one! I was traveling at this point, and they had told me they would send some samples; so since I was away I told them to send it to my parents address who aren't far away. I totally forgot about this until a few weeks later when my mum called me saying somebody is trying to deliver something for me which weighed 120 pounds! Apparently they bought over a whole pallet of bottles! So now I have them sitting in my basement…maybe I'll sell some on eBay in like 50 years!
You left Russia at 16, do you get a chance to return to Russia often? If so, what's the club scene like?
Well I'm actually going there in the next few weeks for a gig – the scene there is actually pretty good. There's a bunch of clubs, some cool after-hours places, it's a good place. People go out there and even with this crisis that's going on there at the moment – they are pretty enthusiastic about going out and listening to their favorite DJs, which for me is the most important thing.
I've just caught the video for your remake of US rock group Soundgarden's 'Black Hole Sun' on YouTube which I love. Why did you choose this track to remix?
When I was in school I always remember that video of Soundgarden  on MTV, and it always scared me at the time…but I loved it! It was so freaky and different and I loved the song, so I was hanging out at my friend's place who's gotten the rock band game for his Playstation. And after rocking the drums ( I'm pretty good on the drums on that track) I thought to myself – this would be a great tune to bring back
When are you visiting the UK next?
Yes I played for The Gallery at Turnmills and again at Ministry of Sound – so I've been there few times. Definitely looking forward to coming back and rocking it again though!
Serge Devant's debut album 'Wanderer' is available now on Ultra Records from all good download sites and music stores. Keep up to date with the world of Serge and download his latest mix from www.sergedevant.com, or preview his album at www.myspace.com/sergedevant