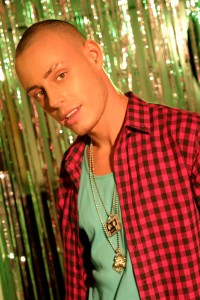 Producer, artist & DJ QBoy is best known as 'that gay rapper' but hopes this time around his music will do the talking with his own self-produced brand of electro-pop and fidget house inspired tracks.
But there's so much more to the lad… and… as it's been a while since Bent got to chat with this sexy hunk, we decided to put our feet up and have a good natter (and a good drool).
So what have you been up to since we last saw you?
Um, that depends when you last saw me. I've mostly been working really hard to finish my new album Moxie in the most recent months. Prior to that I lived in Williamsburg, Brooklyn, for a short time and toured some of the States, where I shot my new music video, 'Coming Out 2 Play'. I'm also still involved in a workshop programme aimed at year 10 students at secondary schools in Wales, breaking down their stereotypes of gay culture and make them more aware of homophobia and bullying. We are hoping to expand that over the next year to include as many schools in the UK as possible.
There's a bit of a change to your sound here. Why?
My early work was mostly produced by other people and I really entered from the militant hip-hop angle—always something to say! [He laughs gently.] Now I solely produce my own material and my own sound has emerged, leaning towards fidget and electro house and pop. It features lots of great artists and has lots of commercial choruses and melodies. I definitely would not describe my new album as hip-hop, although there are elements of that on it. I'm very proud of the new album and I think you'll enjoy it whether you'e gay or not, and if you like rap or not. There's something for everyone

Where do you stand on the whole 'music download' thing?
If you really support and like an artist, then you should want to pay for their art. To download songs for free is stealing and while we all do it at times, I personally always use iTunes to buy the song—if I cannot find it on-line only then do I then consider a free download. But I never download for free first and outright. Especially the independent artists. We don't have a bunch of money and some record label behind us. You steal directly from us when you don't pay for our work, and that has a massive impact on our already smaller incomes. If these artist cannot afford to keep going or continue to make the music that you love so much that you are prepared to steal for it, then in effect you kill out that artist and limit their possibilities.

Does it still matter that you're an out gay artist as much as it did when you first started out?
I consider myself to be QBoy: artist/producer, not as a 'gay rapper', which was the hook for all the press I got when I first arrived on the scene 2002-2004. Back then, because of the way hip-hop was, there was more of a point to being openly gay and working in it. I don't feel my sexuality should always precede my job, and while it obviously still has an impact on the way I see my life and some of the things I write about in my lyrics, my sexuality is not the 'be all' of my work. That would be very boring indeed! I try to make good music everyone can enjoy whatever your background, but from an honest perspective, that's the best I can do.

Where will you be going from here? What's the big QBoy plan?
Well currently I'm back in the States to promote Moxie and the DVD release of the documentary I feature in, Pick Up The Mic, which is just out. Then I get back to London to perform at Pride in Trafalgar Square, which should be great. Then I have a gig in the Southbank Centre and over to Amsterdam. I am just working on pushing this new album and hopefully making some more music videos to follow the current one. Meanwhile, I am also putting together a non-QBoy side project which will be a dance album produced by me, but without me featuring vocally on any of the songs. The idea is to get other people to add their colour to the mix. That's sounding great so far—working with Queen Pen, a female rapper that features on that 'No Diggity' track by Blackstreet. I've already done an official electro house remix for Princess Superstar's new single 'Roc U' and I'm hoping to bring over DJ Spinderella from Salt-N-Pepa for my next PeaceOUT UK Festival in September. Should be fun!
The album Moxie out 13th July on the QBoy Music label