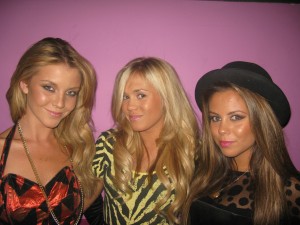 If you haven't heard of the Dolly Rockers then a) you are a little behind the times and b) you are about to hear a lot more of them. After missing the big time on the X Factor several years ago, the girls have been biding their time and plotting world domination. Recently, after getting Radio 1 airplay 'Je Suis Une Dolly' became a cult hit, Scott Mills hailed them as one of the finest pop acts around and now the girls are back with their official debut 'Gold Digger'. Simon Savidge feels the time is ripe for Dollymania!
When I first arrive, their manager announces that they are one down as she's running late "We should get them tagged… really they run wild". As soon as the first two arrive the air is filled with bubbly manic questions "How do you use this fancy coffee machine", "Can we go to River Island later", "Do you need all this funky furniture we've got a very empty new flat", 'What's the plan next week". A crazy wildness reminds me of the very early days Spice Girls. "If we could have half the success that they had it would be fabulous, mind you shame about the reunion for money… but for ten million each who wouldn't?" The girls nod to each other and laugh a lot. "We don't have nicknames yet… do you want to give us some?"
If I was to label them in that Spicy vein then Lucie would be Blonde Business Dolly, Brooke would be Northern Chatterbox Dolly and Sophie would be Silent Plotter Dolly. Not quite as punchy as the nicknames that the Spice Girls had but it definitely sums them all up individually.
We sit down and comment on how it's been "manic since the whole Scott Mills thing" but it didn't all start with the X Factor. Just as the gossip is about to start Sophie arrives. "I've been bloody arrested for having a kids ticket on the tube, I might get community service." There follows a chat between the three in their own special language before she turns and beams in my direction "Hello by the way, sorry I am late I have been having a Dolly Drama". Brooke gives me a knowing look, "We have quite a few of those… now, where were we?"
The girls did indeed go on the X Factor and ended up at Louis Walsh's house but didn't make it to the final ten. "It taught us loads though," Lucie adds, "I mean how the whole game works… we were fortunate we didn't get featured too much so we haven't really had the tag attached. I like that. We have had to go away and work our balls off… well if we had any. Now, hopefully whatever success comes is on our terms, we are in charge and the label is aware of that…" Brooke giggles, "Or else".
They actually started via an audition advertised in The Stage – for a girl group called Innocence. Sophie divulges, "We thought we were going to get so famous. The guy was like… we have guards for you, limos and everything". She's interrupted by Brooke who adds, "He was so full of shit". Lucie looks thoughtful. "Again it was good for us. We now really value everything we have and we've become smarter both business-wise and in general. We get the tube rather than have cars, it comes from our budget, you hear all these popstar moaning they made no money but they had bloody men driving them around in huge Mercedes, what do they expect?" We end up having a good old natter about the X Factor: "We don't have any dirt, though I will say the judges aren't around as much as you think. We would've loved to have Cheryl as a mentor that would have been amazing."
So girls, for those who haven't heard you before, explain your sound. "Ooh," Sophie exclaims, "you must come and hear some of our new tracks." I get an exclusive insight into the album and… it's brilliant. A mix of pop, electro, dance, rock and R&B. "With proper British accents… apparently people all over the shop love the fact we sound real." Every song could be a single… from the camp kitsch, angry pop of 'Champagne Shirley' to the awesome rock electro of 'Boys Will Be Boys'. The latter title they changed the lyric 'freaking' to 'fucking' "It was a bit too American and we have some attitude in us as you may have noticed."
When the time comes to say goodbye's Brooke has gone AWOL. Suddenly when I am in the lift, the clear glass is covered by the missing Dolly Rocker pulling faces and waving like a mad woman. Anyone who steps into the world of this crazy trio of girls will know that they have been well and truly Dolly Rockered!
The Dolly Rockers debut single 'Gold Digger' is out at the end of August for more information visit… www.dollyrockers.com
Photos: darrell hirst