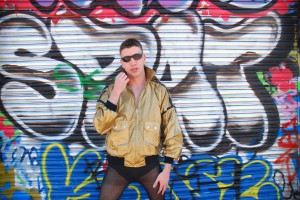 Described as a male 'Lady GaGa', or one man 'Scissor Sisters'' by his ever growing, already sizeable and dedicated, fan base, it's clear that Alexander has caused an incredible buzz around London's edgy club scene, especially when performing live. Coupling the importance of a visual live gig with the music, Alexander manages to incorporate contemporary dancing, fashion – complete with leotards and ballet tights for ironic effect fusing it with electro club land fashions – with the toe tapping, hip gyrating fusion of Electro-Pop he creates. Such a sensation is Alexander that various pieces worn at his live dates are those designed, styled and created specifically for him by local designers. Mix all of this with a hint of brash Northern England humour and the result is something quite spectacular.
Born in Doncaster, South Yorkshire in August 1984 Alexander was raised in an artistic environment, his mother being a fashion designer and artist before going into teaching. A trained dancer and actor, something he chose to hide from school peers who deemed a male in a dance class somewhat unconventional; Alexander found growing up in a small mining town anything but easy leading to him feeling something of an outsider, longing for an escape route. Alexander would later cherish and draw inspiration from his working class roots and the Northern humour.
He took to the stage for the first time in 2006, and performed a memorable rendition of a track named "Toyboy" which was met with a warm response from the audience, boosting his confidence and propelling him to become a frequent name on the club scene.
"Spend A Little Time"
Out: 7th September
Label: Toyboy
Available from iTunes and all major download sites