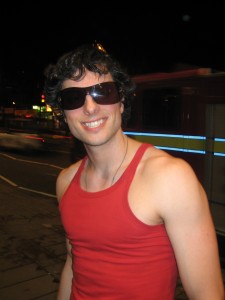 Dig out your flares and dust down your mirrorball. 2009 is the year of disco revolution. Official. And what further proof do you need than Carwash (London's longest running clubbing event and the world's only international Disco club brand) is taking over every Saturday Night at the super glamorous El Divino in Ibiza Town for 2009. They dare to shine their gloriously decadent light into the darkest recesses of Ibiza's hard-edged dance scene. And from the buzz on the island, it's about time. Bent caught up with Nigel "The Deckster" Atkin, Carwash promoter and DJ to dig deeper.
Disco in Ibiza. We didn't see this one coming…
Maybe you did see it coming, but only because it is about time. We have had nothing but house on the Island for years. Disco house, maybe we have had, but that is a whole different thing.
Please tell me you're playing vinyl!
Naturally.
It's billed as the buzzing underground disco club scenes of both London and Paris (nu disco) uniting with the Carwash party (classic sounds). Can you describe the nu sound?
Lets not get too hung up on the Nu bit, it is for sure an aspect of what we will play, but there will be plenty of fabulous classic original disco too. The Nu we work with is classic disco, often well known tunes like 'I want your love" and "Superstition" re edited to be cleaner, with a more modern groove without losing any of the high production and energy of the original. There is a side to Nu Disco which is more housey and jazzy, but we will not be venturing there, we are only playing full power, shiny glamorous disco.
And you've taken over the infamous El Divino in Ibiza Town on a Saturday night? Were they sold on the idea from the start?
I was surprised how much so. I thought I was talking about a one off, and came out of the meeting with the Saturday night. I did realize, however before I went in how perfect Disco is for the profile of the people who like El Divino. People who go there are unlikely to want deep progressive house. The mix there is very international, wealthy, mixed gay/straight and slightly older (not 18yr old first time holiday makers), those groups are all predisposed to like Disco, more even than disco house.
And you're to be congratulated on no more "10 euro bottles of water!" A 5 euro flat rate for drinks is pretty much the same as UK prices.
This was the clincher for me. I, like everybody who steps into an Ibiza club is disgusted with the extortionate prices. This is credit to El Divino, not me, but I applaud it.
Quickfire round:
Donna Summer or Gloria Gaynor? Donna Summer.
Amanda Lear or Sylvester? Sylvester for me.
John Travolta in 'Saturday Night Fever' or The Village People in 'Can't Stop The Music' Neither. Carwash of course.
Flares or Mirrorballs? Can't live without either. Why do you make me choose?
Ian Levine or Giorgio Moroder?. Moroder, for the impact he had on music.
Strings or horns? Again, please don't make me choose.
Roller boots or light-up disco dancefloor? The dancefloor, I quite like the roller boots, but the dancefloor gets more use.
And finally, the greatest disco record of all time is…………
So hard. So many tunes, so little time. Best for dancing? Best for emotions? Best for memories? Here is a selection, with reasons…
"Was That All It Was" by Jean Carn. Beautiful disco music, that will make you dance and make you cry.
"I Want Your Love" (Todd Terje Edit) by Sister Sledge. One of the best classic disco songs, not as a house mix, but re edited to sound more contemporary, but losing nothing. Perfect.
"Carwash" by Rose Royce. It gave the name to something which has made my life wonderful for years, and has given pleasure to over half a million people who have come through our doors.
Carwash. Saturday Nights @ El Divino, Ibiza Town. www.carwash.co.uk