Hannah – Estonia Pop Star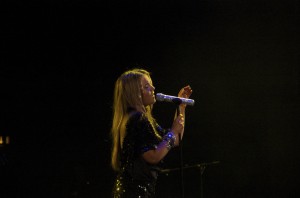 She's ruled the charts at home in Estonia for more than a decade and her mantelpiece groans under the weight of awards. She's been a proud flag-bearer for her country, and has enjoyed massive record success on six albums. Now, from her home in London and via exciting collaborations with the hottest composers and producers, singer-songwriter Hannah is ready to make a new imprint on the international pop scene.
It's over ten years since Hannah's blend of incisive ballads and savvy pop first made its mark. Her long reign has brought repeated recognition, including the republic's Best Female Artist award on two occasions.
Now, for summer 2009, the stakes are raised again and Hannah is in impressive company. The singer, writer and pianist has been composing and recording with some of the most in-demand sidemen in the business.
The roll call includes Steve Robson, Steve Booker, Grant Black and Peter-John Vettese, each of whom has had a litany of hits songs.
"This has been the greatest thing of all," says Hannah of working with such a cast of hitmakers. "They're so talented and have so much to give. I was very afraid at the beginning. When I went to the studio with Steve Booker, it was my first collaboration ever. Before that I'd only written music by myself — even the family were never around."
The first fruit of these fascinating combinations is the single 'Keeping Score', it's a nimble piece of noughties pop that's also a perfect fit for the clubs, via remixes by Bimbo Jones, Digital Dog and Riffs & Rays, some of the most sought-after DJ-producers of this dance decade. It's a perfect aperitif for Hannah's new album, due in September.
www.hannahsite.com