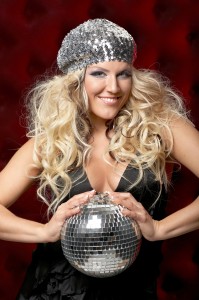 Despite being seen as a possible dance pop flash-in-the-pan (not by us of course) Cascada have taken the charts by storm ever since they released the single 'Everytime We Touch'. Now, three years of hits later, they release their latest offering 'Evacuate The Dancefloor' which we were told was a change of musical direction, we sent Simon Savidge to the album launch to catch up with lead singer Natalie Horler.
The first thing that surprises you when you meet Natalie is that she is British, "Everyone seems to think I am Swedish," she laughs. "I don't know why that is, maybe it's 'the sound' we have". This could be part of it as the trio of Cascada; Natalie and DJ Manian is Yanou, who is also behind hits such as 'Heaven' by DJ Sammy. But how did Cascada come about? "I had been singing with several DJ's and providing vocals for quite a while and I ended up in the studio with Yann (Yannou) and that was it (laughs)… some history was made."
With over 4 million records sold, and their current single being their 13th in just three years has been a surprise to everyone. "I never thought we were a one hit wonder, but I was amazed at how quickly we became big, I never dreamed I would be touring in America… well all over the world." However. their success is no surprise to their legion of gay fans who just love them "And we LOVE the gay audiences too" Natalie screams with delight.
Their third album 'Evacuate The Dancefloor' sees a bit of a change of emphasis. "With the new album we wanted to try something different and merge all the music we love. One of those is R&B." The title track is result is an anthem in the making. "I love the track it's possibly one of my favourite singles. Having said that… there are some great ones yet to come". The sound has been compared to a certain Ms Gaga's style "I see that as a compliment." But Natalie stressed, " We were recording this album before her record hit the shelves so when people say we have copied her I get quite upset. It's got a much dancier edge (laughs). So, maybe more a Lady Gaga remix sound but we had the song done before hers was out." I wanted to know if this album then was a complete departure from previous hit singles. "No, we have some really wonderful trancey tracks but naturally we are evolving as a group and want to try new things. We have recorded more ballads on this album and 'Draw the Line' is one of my favourites."
The album launch is well catered so before Natalie disappears off to the canapés and champagne I ask her what's next. "Tour with this album, release more singles, make another album and take over the world… well take over the world a little bit more" and with a smile and a wink she's gone… straight to the dancefloor.
Cascada's new single 'Evacuate The Dancefloor" is out now with the album of the same name to follow on the 6th July www.cascadamusic.de