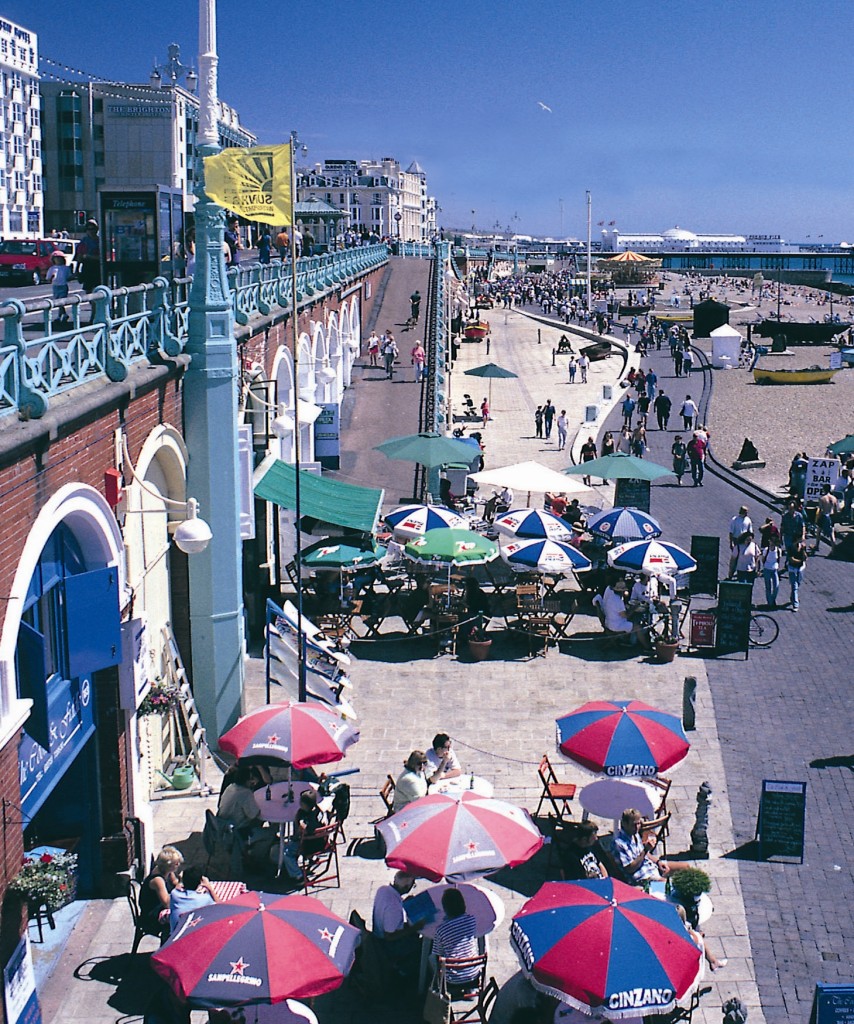 Brighton & Hove has an estimated gay male population of over 25,000! Bent's Adrian Gillan explores the homo haunts – and Grand hotel – of the UK's queerest seaside resort.
Randy royal raver Prince Regent escaped London back in the 1770s. Though straight – and no port or sailors here – he brought with him an air of flamboyance and devil-may-care that made the town a natural colony for rich queers in tow. The word got out and in time thousands flocked to a pleasant place by a Southern sea scarce an hour from London but seemingly a million miles away.
Yet it is only with legality in recent decades that a visible gay quarter has emerged: around St James Street and Old Steine, stretching along the front from the Palace Pier into the area called Kemptown, or "Camptown" as now truly is.
The Bulldog Tavern (31 St James Street; T 01273 684 097), on St James Street itself, is the oldest gay venue in town still functioning. An ex-morgue, it's used to stiffs of all kinds and is rightly renowned for being a community hub. The Marine Tavern (13 Broad St; T: 01273 681 284), just off on Broad Street, joins a crowd of other traditional Kemptown bars that generally cater for the older crowd.
Or try the all-in-one Amsterdam (11-12 Marine Parade; T: 01273 688825) on the seafront – a hotel-bar-sauna multiplex which pulls in travellers from afar who strangely fancy everything under one roof. To rev up, the Queen's Arms (7 George Street; T: 01273 696 873) – over on George Street across St James' – is still one of the campest pubs in town with regular drag acts and karaoke, for a drunken cheery crowd.
R-Bar (7 Marine Parade; T: 01273 608 133) ups the style stakes with unbeatable views of pier and sea. Almost next door, Charles Street (8 Marine Parade; T: 01273 624 091) – something like the Soho Rupert Street Bar but bigger – is the real style-meister hereabouts, with room for 500, many of whom you'll find queuing at the long bar, if not busy making a big entrance or exit down the illuminated ramp. Also pop into Vavoom (31 Old Steine; T: 01273 603010) round the corner.
There are several main devotedly-gay clubs in Brighton, each offering varied nightly flavours to suit most tastes. Legends (31-34 Marine Parade; T: 01273 624462) is a vast multi-million-pound-refurbished bar-club-hotel combo-complex, right on Brighton's seafront. Revenge (32 Old Steine;) is just about the biggest club in the south of England outside London – not that we want to compare ourselves with that place do we boys? – playing to a young, mainstream crowd across multi-floors; vying with a host of regular rival nights – not least Popstarz (@ Ghetto, 129 St James's Street;), every Friday, from 9.30pm, and the massive Wild Fruit (@ Tru, West Street;).
If you still need to let off steam – or get restless after Sunday lunch – The Denmark (86 Denmark Villas, Hove; 01273 723 733) near Hove train station is a buzzing "male health" complex in town.
On a sunny day West Beach between the two piers is the obvious place to bare nearly all. But more fun by far is the official, male-dominated nudist beach about a ten minute jaunt along the front towards the marina. And just back from said beach are the infamous Duke's Mound bushes. As ever, beware.
Uniquely cosmopolitan amongst British seaside resorts, Brighton is a kind of mini London-on-sea, with none of your Blackpool tat! And – amidst a quintessentially English backdrop of mile upon mile of aqua-pastel promenade paint and a ghostly, burnt-out West Pier moored offshore against the blinding sun – G-A-Y truly runs through its soul as through a sticky pink six inch stick of candy rock.
Brighton Pride Parade 2009 is on Saturday 1 August.
Brighton is under an hour from London Victoria by Southern Railway.
BOX-OUT: GRAND, BY DESIGN
Opened in 1864, catering to the Victorian upper set holidaying by Britain's Southern sea, the elegant splendour of the indisputably 5* Brighton Grand hits you the moment you pass its seafront doors, into a foyer dominated by a majestic central staircase, flooded with light from a great glass dome, high above.
And – to many, unbeknownst – you're not just walking through distant history. This October will be the 25th anniversary of the most ambitious anti-government plot since Guy Fawkes: the atrocious 1984 IRA bomb which killed five and injured dozens more, many seriously – but which failed to assassinate Margaret Thatcher and her Cabinet. After the carnage, The Grand soon re-opened in 1986, restored to full opulence, and even the Trotters stayed here – during a 1992 episode of Only Fools and Horses!
Wangle a sea-view room if you can; and don't forget to pig-out on the sumptuous breakfasts.
For more information or to book, call 01273 224 300.