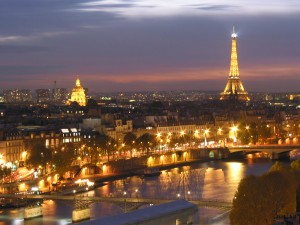 Paris offers much for the gay traveller, from romantic weekend breaks to sunbathing beneath the Eiffel Tower. Here are Bent´s suggestions for the French capital.
Getting Around
Many important buildings are located in Paris´ suburbs, including the Stade de France, but the city´s trains, buses and trams, as well as the availability of taxis, makes travel easy if not always quick.
The Place de la Bastille is within walking distance of Notre Dame cathedral and Le Marais, which is the trendy Right Bank district where many of the city´s gay locals can be found. Museums, creperies, restaurants and parks are all nearby, as are shops and the Palais du Justice.
The Champs-Elysées sports many of the big shopping names and is also the place to check out Claridge´s and some fine restaurants. The Champs-Elysées also connects the Concorde withg the Napoleonic Arc de Triomphe.
Avenue Montaigne, next to the Champs-Elysées, is the place to be for luxury fashion: Louis Vuitton, Givenchy, Dior and Chanel.
Near Place de la Concorde, at the other end of the Champs-Elysées, are the Hotel de Crillon, Hotel Ritz and Hotel de Vendom, as well as famous jewellery and fashion labels such as Cartier.
Montmartre is full of swanky cafes and art galleries, and the Avenue de l´Opera has the capital´s biggest concentration of department stores. Here can be found the Galleries Lafayette grands magasins and most of the major banks. The area is worth a visit just for the opulent Napoleonic architecture alone.
Finally, Ab Fab fans should visit Faubourg Saint-Homore, Paris´aute-couture district, to check out Christian Lacroix and Hermes.
Thing to do
Paris offers lots to do, which can be a problem for short weekend breaks. However, hopping on one of the tour buses is an easy option. Tickets cost about 20€ and are valid for two days. It means you don´t have to rely on public transport, as the buses go from Notre Dame, next to gay-hub Le Marais, to the Champs-Elysées, to the Eiffel Tower, and back. You can hop on and off at whim and if you plug your headphones in, they even give you all the history bits too!
For romantics, head to Café Anthracite. This recently opened, gay-owned venture is a stylish cafe-bar secreted away from the main drag of gay bars in Le Marais. The menu is a sophisticated blend of elegant, classic French cuisine and lavishly prepared contemporary dishes. Start with pink Veueve Clicquot for a warm-up, then try the foie gras as a decadent and flavoursome starter, perhaps accompanied with some delicious licquorice wine. The steaks are all melt-in-the-mouth delicacies suitable for the main course, and the waiter can recommend a perfect red wine to accompany the dish.
Desserts are varied, although the chocolate cake with molten chocolate centre was a delicious conclusion to a filling meal.
Accommodation
Apartment Paris (www.myapartmentparis.com0 offers a range of high-class apartments located in leafy corners, bustling café quarters and sophisticated shopping locales—indeed, any number of surprising locations to fit your requirements. We recommend picking somewhere close to Le Marais, in one of the gorgeous old stone townhouses in the area. Premises are secluded and accessible, and always decorated to the best in modern standards, from rustic stone floors and cast-iron baths to studio-style apartments with pastel palettes and airy rooms.
Travel
Flights with Jet2 start at just ₤9.99 plus taxes, and fly from a number of UK airports.
Thanks to the wonderful owners of Café Anthracite, all the staff at Apartment Paris and Nikki at Luccre Communications. Also, thanks to Jet2 and Tourisme France.