Alberta: Calgary & the Canadian Rockies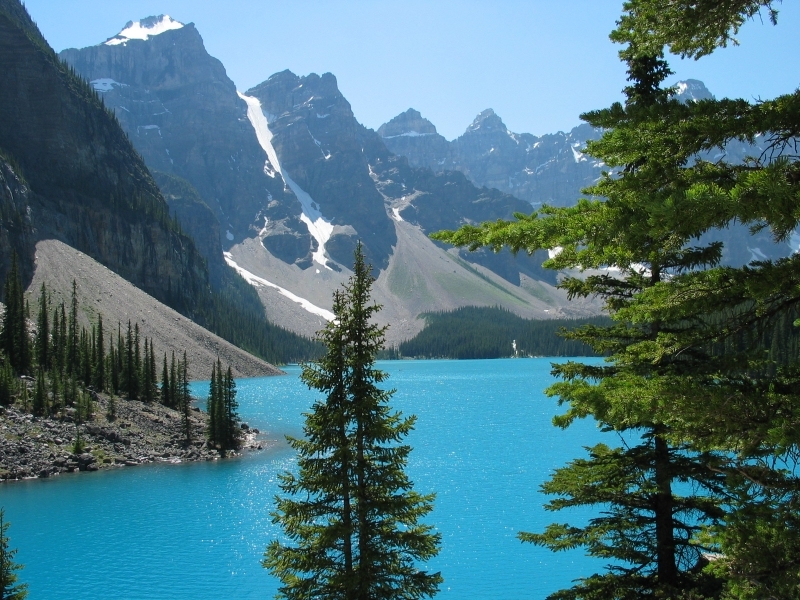 Home to the Canadian Rockies, it's where they shot Brokeback Mountain: Adrian Gillan visits the province of Alberta and its buzzing gay scene in Calgary!
Born out of Canada's own Wild West – where outlaws, traders and trappers moved amongst local tribes before the British Empire took hold, naming the province after Victoria and Albert's daughter – Alberta has emerged from its "Mounty"-tamed past to become tourist-beckoning home to the majestic Canadian Rockies, readily reached from the oil-and-money boom high-rise that is Calgary: itself crammed with a third of Alberta's 3 million-strong population and dubbed "Cowtown" – Canada's answer to Dallas!
You should definitely consider flying direct with Air Canada, not least since it has now well-nigh completed the roll-out of its rightly-acclaimed Executive First product across a refurbished fleet, boasting – amongst many other things, quite apart from access to those famed Maple Leaf airport lounges – lie-flat beds that fully recline at the touch of a button, and can even deliver an in-seat massage!
TO STAY
Calgary Westways B&B (216 – 25 Ave. SW, Calgary; T: (01) (403) 229 1758; www.westways.ab.ca) – 1912-built inn just 20 minutes' walk from downtown bars 'n sites, with large rooms and even larger breakfasts. Gay-run by utterly charming couple, Jonathon and Graham.
TO SEE 'N DO
TO EAT, BOOZE 'N CRUISE
Calgary's gay scene (www.gaycalgary.com) is conveniently clustered just SW of central Downtown…
Velvet @ The Grand (608 – 1 Street SW, Calgary; www.velvetgrand.com; www.crmr.com) – Cool mixed urban eatery, linked to a vibrant theatre, with fab modern Canadian cuisine. Try their Elk!
MPs Eatery & Bar (1742 – 10 Ave SW, Calgary; www.money-pennies.com) – Friendly venue west of centre, claiming to serve "the Best Burger in the Universe".
BackLot (209 – 10 Ave SW, Calgary) – Friendly central boozer.
Eagle (424a – 8 Ave SE, Calgary; www.calgaryeagle.com) – Calgary's leather 'n denim bar.
Twisted Element Nightclub & Lounge (1006 – 11 Ave SW, Calgary; www.twistedelement.ca) – Western Canada's largest gay night spot, featuring a sprawling piano bar downstairs. A twink fest!
Deva Dave's Boutique & Salon (810 Edmonton Trail NE, Calgary; T: (01) (403) 290 1973; www.devadave.com) – Boudoir and salon for all your glamour grooming and/or trans needs!
BOX-OUT: BANFF & THE ROCKIES…
For a stark contrast, take the mere 1½ hour drive, due west of Calgary, to Banff – in the awesome eponymous Banff National Park, Canada's oldest and still most famous such natural reserve.
As you leave scraper-brimming Calgary, the horizon unfolds and then soon lifts you thousands of metres – via the hilly Kananaskis foothills where they shot Brokeback Mountain – way up into the peaks and lakes of the soaring 3000m-plus Rockies! The railroad first opened Banff up to tourism in the 1880s, and its lofty lure pervades all-year-round – whether for snowy piste in winter or leafy walk through summer.
TO STAY
Juniper Hotel & Bistro (@ Juniper Way & Mt. Norquay Rd, Banff; T: (01) (866) 551 2281; www.thejuniper.com) – Great-value luxury hotel with refurbished 1950s modernist design, on the edge of the main resort, with wide-vista mountain and lake views, outdoor hot-tub and fab bistro.
TO EAT & DO
Maple Leaf Grill (137 Banff Ave, Banff; T: (01) (866) 760 7680; www.banffmapleleaf.com) – Cosy yet creative Canadian cuisine at a highly popular informal yet chic venue.
Discover Banff Tours (215 Banff Ave, Main Level Sundance Mall, Banff; T: (01) (403) 760 5007; www.banfftours.com) – These guys can organise a whole host of summer or winter activities, from hiking, caving and rafting to skiing, dog-sledding and snow-shoeing!
Sulphur Mountain – Ascend to 2300m by year-round Gondola for spectacular views; sampling the geo-thermal waters of the public pool at Upper Hot Springs en route.
Willow Stream Spa (@ Fairmont Banff Springs Hotel, 405 Spray Avenue, Banff; T: (01) (800) 441 1414; www.willowstream.com) – Luxury spa at the historic landmark hotel, once the world's largest.
For transfers between Calgary (Airport) & Banff: www.banffairporter.com; www.resortshuttle.ca
OTHER USEFUL CONTACTS
Air Canada offers more services between the UK and Canada than any other airline and flies from London Heathrow to Calgary, Edmonton, Halifax, Montreal, Ottawa, Toronto and Vancouver; also offering a range of connections from its Toronto hub to destinations across North America, Latin America and the Caribbean. For info or reservations call 0871 220 1111 or visit www.aircanada.com
General info about Alberta: www.travelalberta.com
Other useful sites: www.tourismcalgary.com; www.banfflakelouise.com