Alberta: Calgary & the Canadian Rockies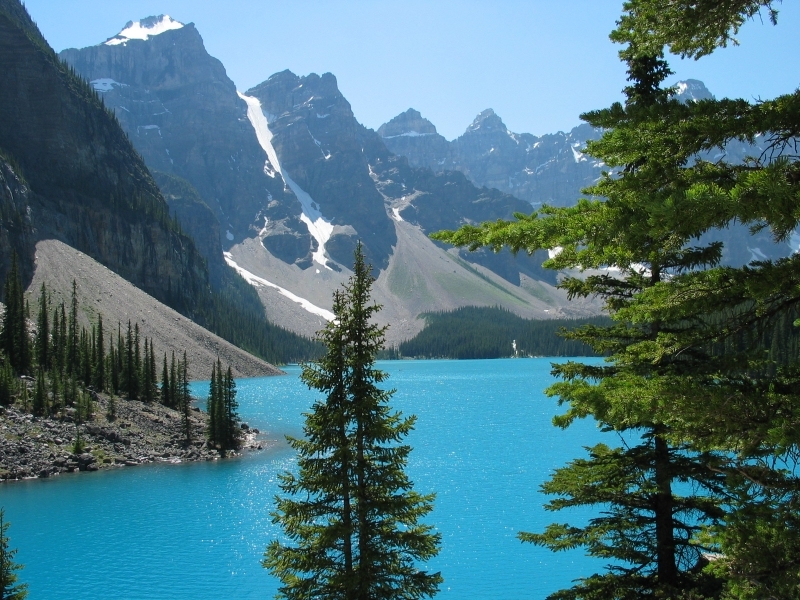 Home to the Canadian Rockies, it's where they shot Brokeback Mountain: Adrian Gillan visits the province of Alberta and its buzzing gay scene in Calgary!
Born out of Canada's own Wild West – where outlaws, traders and trappers moved amongst local tribes before the British Empire took hold, naming the province after Victoria and Albert's daughter – Alberta has emerged from its "Mounty"-tamed past to become tourist-beckoning home to the majestic Canadian Rockies, readily reached from the oil-and-money boom high-rise that is Calgary: itself crammed with a third of Alberta's 3 million-strong population and dubbed "Cowtown" – Canada's answer to Dallas!
You should definitely consider flying direct with Air Canada, not least since it has now well-nigh completed the roll-out of its rightly-acclaimed Executive First product across a refurbished fleet, boasting – amongst many other things, quite apart from access to those famed Maple Leaf airport lounges – lie-flat beds that fully recline at the touch of a button, and can even deliver an in-seat massage!
TO STAY
Calgary Westways B&B (216 – 25 Ave. SW, Calgary; T: (01) (403) 229 1758;) – 1912-built inn just 20 minutes' walk from downtown bars 'n sites, with large rooms and even larger breakfasts. Gay-run by utterly charming couple, Jonathon and Graham.
TO SEE 'N DO
Calgary Tower (101 – 9 Ave SW, Calgary; T: (01) (403) 266 7171;) – Opened in 1968 and standing 215 metres high, the only way to see the town, especially at night!
Heritage Park Historical Village (1900 Heritage Dr. SW, Calgary; T: (01) (403) 268 8500;) – Reconstructed village on the banks of the Glenmore Reservoir, mainly covering 1870s to pre-WW2. Boasts its very own paddle boat, steam train plus circus!
Glenbow Museum (130 – 9 Ave SE, Calgary; T: (01) (403) 268 4100;) – Opened in 1976, a treasure store of art and artefacts from Canada, and beyond. Fab First Nations section.
Fort Calgary (750 – 9 Ave SE, Calgary; T: (01) (403) 290 1875;) – Founded by Mounted Police in 1875, on the banks of the Rivers Bow and Elbow – the city's historic heart.
Calgary Stampede – Raucous racin', dancin' 'n buckin', every July.
Olympic Park – Alberta's 2nd-most visited attraction, after the Rocky Mountain Parks, this 1988 Winter Olympics relic – former haunt of "Eddy the Eagle" – still rocks!
TO EAT, BOOZE 'N CRUISE
Calgary's gay scene is conveniently clustered just SW of central Downtown…
Velvet @ The Grand (608 – 1 Street SW, Calgary;) – Cool mixed urban eatery, linked to a vibrant theatre, with fab modern Canadian cuisine. Try their Elk!
MPs Eatery & Bar (1742 – 10 Ave SW, Calgary;) – Friendly venue west of centre, claiming to serve "the Best Burger in the Universe".
BackLot (209 – 10 Ave SW, Calgary) – Friendly central boozer.
Eagle (424a – 8 Ave SE, Calgary;) – Calgary's leather 'n denim bar.
Twisted Element Nightclub & Lounge (1006 – 11 Ave SW, Calgary) – Western Canada's largest gay night spot, featuring a sprawling piano bar downstairs. A twink fest!
Deva Dave's Boutique & Salon (810 Edmonton Trail NE, Calgary; T: (01) (403) 290 1973;) – Boudoir and salon for all your glamour grooming and/or trans needs!
BOX-OUT: BANFF & THE ROCKIES…
For a stark contrast, take the mere 1½ hour drive, due west of Calgary, to Banff – in the awesome eponymous Banff National Park, Canada's oldest and still most famous such natural reserve.
As you leave scraper-brimming Calgary, the horizon unfolds and then soon lifts you thousands of metres – via the hilly Kananaskis foothills where they shot Brokeback Mountain – way up into the peaks and lakes of the soaring 3000m-plus Rockies! The railroad first opened Banff up to tourism in the 1880s, and its lofty lure pervades all-year-round – whether for snowy piste in winter or leafy walk through summer.
TO STAY
Juniper Hotel & Bistro (@ Juniper Way & Mt. Norquay Rd, Banff; T: (01) (866) 551 2281;) – Great-value luxury hotel with refurbished 1950s modernist design, on the edge of the main resort, with wide-vista mountain and lake views, outdoor hot-tub and fab bistro.
TO EAT & DO
Maple Leaf Grill (137 Banff Ave, Banff; T: (01) (866) 760 7680;) – Cosy yet creative Canadian cuisine at a highly popular informal yet chic venue.
Discover Banff Tours (215 Banff Ave, Main Level Sundance Mall, Banff; T: (01) (403) 760 5007;) – These guys can organise a whole host of summer or winter activities, from hiking, caving and rafting to skiing, dog-sledding and snow-shoeing!
Sulphur Mountain – Ascend to 2300m by year-round Gondola for spectacular views; sampling the geo-thermal waters of the public pool at Upper Hot Springs en route.
Willow Stream Spa (@ Fairmont Banff Springs Hotel, 405 Spray Avenue, Banff; T: (01) (800) 441 1414;) – Luxury spa at the historic landmark hotel, once the world's largest.