Miami Nice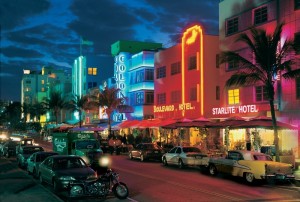 Adrian Gillan steers you around the Art Deco, palmed, sea-view chic that is Miami.
When the railroads reached Florida in the 19th Century, they brought along rich, leisured Americans seeking sun. The roaring twenties were interrupted only briefly by depressions and hurricanes; then increased migration and resultant poverty from South America and Cuba brought in the notorious drugs-fuelled 80s crime spree – Miami Vice and Scarface times –now, thankfully, all gone; to be replaced by A-list celebs and beach-loads of queers – not least along South Beach's famous sandy spit!
Settle
For accommodation, check out The Pelican (826 Ocean Drive, Miami Beach; T: +1 305 673 3373;), a quirky landmark Deco-style boutique hotel slap-bang on the front; or the Mandarin Oriental Miami (500 Brickell Key Drive, Miami; T: +1 305 913 8288;) – offering Asian serenity, bay views plus exotic spa.
South Beach
Miami's South Beach – or SoBe (pronounced "so-bee") – has the colour of Rio, the intensity of Manhattan and the tropical ambience of the Caribbean, all on a long island just a 10-minute drive east of Miami's main Downtown urban sprawl.
SoBe boasts one of the world's most significant, and thankfully now nationally protected, swathes of 1920s and 30s Art Deco hotels and residences – each one as individual and scrumptious as a well-iced fairy cake, all with glorious pastel hues which take on a brand-new dimension of luminosity when lit up after dark. The Miami Design Preservation League runs regular daily walking tours of the district.
Whilst in the area, visit The Wolfsonian (1001 Washington Avenue;), showcasing American and European decorative arts, 1885-1945; and the gloriously massive World Erotic Art Museum (1205 Washington Avenue;)!
Along pedestrianised Lincoln Road Mall, you'll find numerous gay-run or gay-friendly cafes, galleries and shops. Further south – overlooking the fine white-sanded beach itself – is the famous Ocean Drive; best cruised down slowly in a large open-top car at night or sauntered along dreamily on foot by day. Along it you'll find the Casa Casuarina (1116 Ocean Drive, Miami Beach;), the former Versace Mansion, now a luxury boutique hotel and club, brimming with Gianni's unique designs. Great public eatery and daily tours.
At the very southern tip of Ocean Drive, Nikki Beach (Penrod's Complex, 1 Ocean Drive, Miami Beach;) is a full-amenity beach club serving Euro-Bistro cuisine amidst sun-basking hotties. Back from the front, check out buzzing Lime Fresh Mexican Grill (1439 Alton Road, Miami Beach;); showy Barton G. Restaurant (1427 West Avenue, Miami Beach;); or any eatery along ambient Hispanic Española Way.
Beyond SoBe
A short drive north of South Beach, and you reach historic Sunny Isles Beach where you can pop into Paradigm, the experimental "molecular gastronomy" restaurant-within-a-restaurant at Neomi's Grill (Trump International Beach Resort Miami, 18001 Collins Avenue, Sunny Isles Beach;); or explore oceanfront Canyon Ranch (6801 Collins Avenue, Miami Beach;), notably its vast spa, with thermal circuit.
Due west of South Beach, over the causeway, the Little Havana district attracts, with its colourful murals, monuments, Cuban characters, coffee and cigars. Whilst there, pop into buzzing, cheery Versailles (3555 SW 8th Street, Miami;) for authentic, great-value and delicious Cuban cuisine.
In Miami Downtown itself, chomp away at Manny's Steaks (Met 1, 300 S. Biscayne Boulevard;), before enjoying a show or film at the utterly kitsch architectural orgy that is the old Gusman Center for Performing Arts (174 East Flagler Street;); or a ballet or opera at the modern Adrienne Arsht Center for the Performing Arts of Miami-Dade County (1300 Biscayne Boulevard;).
Stroll the Miami Design District, a unique, pedestrian-friendly 18 square block "community of design", just north of Downtown and ten minutes from South Beach – brimming with fashion and décor stores, plus lively eateries like jazzy Brosia (163 NE 39th Street, Miami;).
Scene
There are loads of gay-friendly grubberies along Lincoln Road Mall. For home-from-home, try Balans (1022 Lincoln Road Mall;) – a US outpost of those fab London stalwarts. Or try the queer-buzzing Palace Bar & Grill (1200 Ocean Drive;), right opposite the gay beach on the front.
The Laundry Bar (721 Lincoln Lane, South Beach;) is a fun space. Ditto ever optimistically-titled Score (727 Lincoln Road Mall, South Beach;)! Sizeable Twist (1057 Washington Avenue, South Beach; ) is the longest-running of SoBe's gay venues. Also check-out relative new kids, über-chic Halo Lounge (1625 Michigan Avenue, South Beach;) or Vlada Miami (3215 NE 2nd Avenue, Midtown;). Downtown Discotekka (@ Metropolis nightclub, 950 NE 2nd Avenue, Downtown;) gets packed with hunky Latinos every Saturday night.
If still on the prowl, "take airs" in South Beach's Flamingo Park 24/7; or, by day, check out the herds of preening pecs on the gay beach opposite 12th Street. Haulover Nude Beach on Collins Avenue at 108th Street is even clothing-optional.
Further info
The next infamous 10,000-strong Miami White Party is 25-30 Nov 2009; with 5,000-strong Winter Party set for Feb/March 2010.