Travel – Antwerp or the end of the Galaxy
Antwerp or the end of the Galaxy?
Adam Lowe investigates.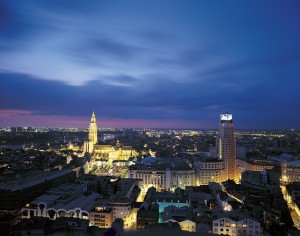 Belgium has a reputation here in the UK. Indeed, Douglas Adams once made a joke in The Hitchhiker's Guide to the Galaxy that the only swearword left universally unspeakable in the whole galaxy (except the one place where no one knew what it meant) was 'Belgium'. Rather scathing, rather funny, but also rather untrue. As Antwerp showed me, Belgium has a queer side—and I loved every minute of it!
The basics
Antwerp (or Antwerpen in Dutch and Anvers in French) is the capital of the Antwerp province of Flanders, which is considered the home of the Flemish community. As such, Dutch and French are both spoken, with a 59% and 31% distribution, respectively. There are also some German speakers, too, and many locals in shops, in restaurants and at tourist attractions will speak English at least reasonably well.
It has a population of approximately 475,000, and has an area of 205km². Their currency is the Euro, which is unsurprising since Belgium was a founding member of the EU, and because Antwerp is located on the right bank of the river Scheldt, their economy has traditionally been associated with trade and tourism. These two meet, appropriately for the LGBT community, in fashion, and Antwerp is considered one of Europe's most exclusive and culturally diverse centres for the fashion industry. Of course, as with the rest of Belgium, it also has its fair share of chocolates.
Culture vultures
17th Century Antwerp was famed for its cabal of painters, including Rubens, Jordaens and Van Dyck. This has no doubt influenced the aesthetic sensibilities of the city, which has more recently become famous for fashion designers such as the Antwerp Six. Its Royal Academy of Fine Arts has given it an elite status in the fashion world, and many fashion designers have decided to locate stores in the city over other European centres because of its prestige and the high number of fashion tourists it receives from nearby countries.
That's entertainment
Antwerp is a queer city—in both senses of the word. It has tourist attractions galore, whether you want to visit gothic museums or stroll down sunny, continental boulevards. It has shopping to suit all tastes and budgets, from Urban Outfitters to Armani. But it also has nightclubs, bars and restaurants, ranging from the refined to the more trendy palettes.
For food, there are a range of options available. Garde Ville offers traditional local cuisine suited for brunch, lunch or tea, and is located at Nationalestraat 41, close to the fashion museum and boutique shopping district. The restaurant is open from midday to midnight, with sandwiches, soups, main courses and coffees available throughout.
For dinner, Brasserie Appelmans has both a bar and restaurant designed to whet the appetite. Their speciality is absinthe, and the cocktail menu includes a range of absinthe drinks. A suggestion would be to try the liquor as it was drunk in the past, and as the Belgians still drink it now. That is, mixed with water and sweetened with sugar.
Dinner at Appelmans involves a back-to-basics approach, combining traditional Belgian food with modern variations upon the same. The duck here is spendidly juicy and the fish, fresh and tasty.
As an alternative, try dinner and cabaret at P. Preud'homme, where drag queens can often be seen serenading guests as they tuck into the luxurious but manageable five-course banquets it is justly famous for.
For the more gay-oriented or simply more low-key trip, Sjalot en Schanul offers a lesbian-run, friendly experience sure to charm and delight. This café also offers take-out for those with a hectic itinerary.
Late-night drinks can be enjoyed at Popi Cafe, where the local LGBT community flocks for a chilled-out drink or for a pre-club warm-up. The management is friendly and the staff eager to help. Small finger food can also be obtained here for a reasonable price.
Red & Blue is the city's biggest weekend gay night, run by the successful team who put on city's now legendary NaviGAYtion boat parties at Antwerp Pride. The venue is massive, complete with a number of bars, a huge stage and an upstairs VIP area. The Red & Blue venue also hosts Studio 54, which is a themed night drawing both gay and straight customers with an exceptionally decadent feel. D-Club is a modern club that would feel perfectly at home in London. Inside it has a glamorous cocktail bar in an antechamber that leads to a large, high-ceilinged dance room reminiscent of a giant black box.
Antwerp Gay Pride runs from 25th -28th June       www.antwerppride.com
Accommodation
Hotel t'Sandt offers a very gay-friendly service for travellers (the owner himself is gay) and suites lavish and spacious enough for even the most queenly of tastes. Located beside the river on Zand 17, it is also within walking distance of the Onze-Lieve-Vrouwekathedraal (Cathedral of Our Lady), Brasserie Appelmans and Popi Café. Other hotels include Hotel Rubens at Grote Makt, Prinse Hotel at Keizerstraat 63 and  the Radisson SAS Park Lane Hotel on Van Eycklei 34.
Transport
Travel by road is easy, since Antwerp city centre is encircled by a motorway known locally as 'the Ring'. It offers connections to Brussels (40 mins), Ghent, Lille and Hasselt. The river is also amply connected by three road tunnels, and a fourth is due to be built shortly.Rail links connect Antwerp to Amsterdam and Paris, as well as Ghent, Bruges and Brussels. Central Station itself is a brilliant tourist attraction and architectural monument.
Within the city, it's advisable to use the tram or bus services, since they're quick, regular and efficient. Walking is also an option, since the city is small enough to reach many locations on foot, if you don't mind a slower, scenic journey.
Brussels airport offers a wider range of airlines into the country, although a taxi would be 62 Euros to Antwerp. Antwerp International Airport, however, does have flights from London and Manchester via VLM Airlines. There is a bus from Antwerp International to the city centre.
Eternal thanks go out to Chloe Lopez and Olivier Seyssens of Tourism Flanders, without whom the trip would not have been possible. Thanks also to Ludo Smits of Red & Blue, P. Preud'homme, Roze Huis at Brasserie Appelmans, Rick Philips of the tourism office, the wonderfully accommodating Bart Abeel from Antwerp Pride, Patrick Aertsen, Sjalot en Schanul, D-Club, t'Sand and Ariane Van Duytekom.
Photos: Tourism Antwerp