Not 'too shy' anymore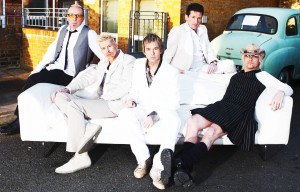 Back in 1983 the band Kajagoogoo had a huge world-wide hit with their first single called "Too Shy". It was never off the radio and the young 5-piece were destined for great things but shortly after this phenomenal success the band split. Now, 25 years later, the original five members – Limahl (Lead Vocals), Nick Beggs (Bass/Vocals), Steve Askew (Guitar/Vocals), Jez Strode (Drums) and Stuart Croxford Neale (Keyboards/Vocals) have reunited to tour the UK. Bent caught up with frontman Limahl to get the low-down on just what went on all those years ago.
OK, I suppose the main question is… at the peak of your success you left the band… why?
Hey hey – why not go straight for the jugular? I didn't leave, I was fired. Our first single went to Number 1 all over the world, which was fantastic… BUT we were all very young (I was 23), thrown in at the deep end and pressures led to fractures etc. However, the main problem was me not seeing eye-to-eye (pun intended) with the then manager, who was on old school chum of the band's, and they felt a loyalty to him when he suggested they get rid of the lead singer and go back to being a 4 piece. From the smugness of hindsight they can now see that was the WRONG decision – especially as he ended up ripping them off. No clichés there then eh?
You had solo success and the band had some further success… are you going to combine the two careers on the new shows?
Absolutely. That's been part of the fun – incorporating both bodies of work and it also helps us heal the long rifts. Nick sings the girl part in 'Neverending Story', which is very worrying that his voice can get that high. I think he's secretly a sex change. Was a girl but now a man – well vaguely a man (laughs).
Did you find being 'the gay frontman' of such a popular band difficult?
VERY !! I didn't know how to handle it at all and no one was advising me. Politically I felt I was very much out of my depth and so just didn't address the issue. Besides my goal was always about achieving the role of a successful singer/songwriter – whereas, I think someone like Jimmy Sommerville for example (who I greatly admire and respect as a musician/performer/gay rights campaigner) seemed to be driven by that agenda from the outset.
What have you been doing for the past 25 years… has it been difficult not being in the limelight?
Wow how do I edit 25 years into a paragraph? I've been on a journey called 'life' – experiencing all the usual stuff, love/heartache/ups/downs/twists/turns etc. It's been, and continues to be, a challenge that is both fulfilling AND frustrating. Your 'limelight' question is VERY valid though because when the fame thing is over, as a person you are suddenly left wondering if you're now a failure. This is an important hurdle because the answer is an emphatic 'NO'. I simply asked/told myself this:  I may never have another hit record; does that mean I'll be unhappy for the rest of my life? What waste that would be. The early success was great fun and certainly life-changing BUT it doesn't define who I am by any means. I'm just grateful that I experienced it – I wouldn't have missed it for the world. AND I also came through it OK, with my head/heart/body/soul still intact, which is a success in itself. When so many temptations are thrown at someone at such a young age, it could easily be the start of that slippery slope downwards.
Tell Bent about the new material.
The new material is our first new offerings as the original 5 piece in 27 years and we all felt that that was one of the most important things to do. It has also really helped the healing process by us getting down to the nitty-gritty creativity, which after all, is what brought us together all those years ago. The chemistry was interesting because now we all bring to the table our individual influences of life/living PLUS we're all fairly experienced musicians now.  The result is very satisfying and a real grown-up Kajagoogoo sound. We've tried to stay true to what the musical ethos of what Kajagoogoo was about, which is a combination of Nick's fun, Stuart's great keyboard/sequencers and Steve's guitar. In the early 80's, there were the early electronic pioneers like Depeche Mode, Human League, Soft Cell, then came the bands who blended all of that with guitar like, Duran, Spandau Ballet and Kajagoogoo. My voice is a bit like an old leather jacket, better when it's worn in a bit.  We've just shot a video for one of the new tunes called 'Space Cadet' and in some of it I wore drag, which was really fun. There's a lyric in the song "I'm the Rocky Horror Show" so it was a perfect creative reason to put on the false eyelashes, lippy and red finger nails – honestly!!  Actually, I make quite a pretty girl sweetie…
What type of stage show can the audience expect?
Energetic, only one slow track in the 90 min set.  A touch of the old-school Kajagoogoo sound/style with some new noughties nuances. I think in a world of the Simon Cowell conveyor-belt pop – we might be a refreshing change – even if we are all approaching the big five zero. Fifty is the new 35 anyway!   Seriously though – 'Too Shy' was almost a perfect pop record but I think people have always been a little suspicious of pop. Is it really them singing/playing or is it just the producer and backing vocalists doing it all and the band are just fronting it ? But I can assure you, unlike Milli Vanilli, we DID sing/play (and write I might add) our songs/records.
Kajagoogoo… do you think it is a name for the noughties?
In the name stakes we were pretty much ahead of our time I think. The biggest search engine in the world is Google and there's something about saying the sound of 'oo' that people like. In music we all love a good 'Ooh ooh' (as in many great Motown hits) so in Kajagoogoo – you get to do it twice – how fab.
The tour dates are as follows:
September
17th               Liverpool – O2 Academy                        08444 772000
28th               Glasgow – The Ferry                                     01698 360085
20th                Belfast – The Ulster Hall                        02890 334455
23rd                 Norwich – The Waterfront                        01603 508050
24th                 Sheffield – O2 Academy                        08444 772000
25th               Wolverhampton – Robin 2                            01902 401211
26th                Nottingham – Rescue Rooms                        08713 100000
27th                 Swansea – Sin City                                    01792 654226
30th                London – Islington Academy                         08444 772000
October
1st                     Southampton – The Brook                        02380 555366