Terry George, Does money make you happy?
It's strange but since appearing on Secret Millionaire the second question I'm always asked is "Does money make you happy?" – the first question is usually "Can you lend us a tenner?" The answer to the happiness question is that for some… no amount of money can buy it, while the answer to lending a tenner is "Get your cock out first." Of course I jest.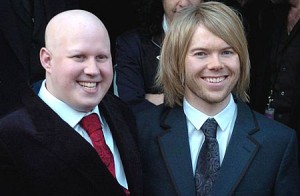 I was disappointed to learn of the first celebrity gay divorce since the law changed in 2005. Little Britain star Matt Lucas and his partner Kevin McGee have announced their amicable separation.
Unfortunately it's one of the drawbacks of so many high profile relationships which hit the rocks and the headlines all too often. Matt and Kevin were married in 2006 at a star-studded pantomimed themed ceremony, but clearly his £15 million fortune hasn't been enough to keep that celebrity couple happy.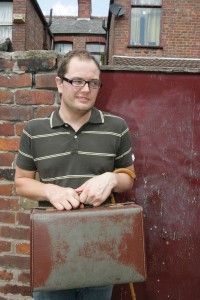 My friend the comedian, Alan Carr told me that he struggles to maintain relationships because of his work and his social life really suffers. The attention that celebs receive must be h
ard for some partners to cope with. I know that my partner Michael who prefers to be out of the limelight, quite ofte
n has a dig at me because I enjoy our minor celebrity status. There are many people who do make it work, Elton John and his partner David
Furnish enjoy a long term successful relationship, however I think too many people throw in the towel when the romance dies down.  I was once told that if you put a penny in a jar for every time you make love in the first 6 months of a relationship and take a penny out every time you make love from 6 months onwards the jar will never be empty. Perhaps those who advocate open relationships where they keep experiencing the romance but have the security and stability of a long term companion are the ones with full jars?
On a different topic entirely, I had a meeting recently with Charlotte Hanvey, the Marketing Manager at the Galpharm Stadium; home of Huddersfield Town Football Club and the sensational Huddersfield Giants Rugby League team.   The Galpharm are very keen to get the word out that sporting events at the Stadium (and in fact any event at the Galpharm) are gay friendly. What a refreshing (and often rare) attitude this is!  Charlotte asked for my help in spreading the gay friendly word because the Galpharm wants to be considered as a possible venue for civil partnerships. The sad reality is that there is still lots of homophobia surrounding sport which can be very off putting. In fact I personally know of a few gay premier league footballers who have had to keep their sexuality a secret because of the discrimination they fear they would face in their careers and their lives!  It's a sad fact that in the 21st Century gay people can still be made to feel uncomfortable in certain areas of life.  We need to start breaking  those homophobic barriers down – so boys and girls give the Galpharm a Go!