Cardiff & Brecons
Oh boyo! Adrian Gillan catches rarebits down in Cardiff and the nearby Brecon Beacons.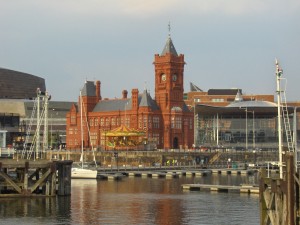 Dream of yummy lads in scrums; or strapping miner boys sluicing off their soot? Dream on! Cardiff is in fact one of Europe's youngest capitals – both head and heart of Wales – as well as breeding gloriously horny, luscious, lilting stunners with dark hair and eyes, high cheekbones and strong jaws to die upon.
To see
You can't miss the vast Millennium Stadium, looming up over the main bus and railway stations, by the River Taff – tours available; and don't miss Cardiff University campus, thronging with students – open to all persuasions. For shops, hit Queen Street – plus the famous Victorian Arcades. For history, check out Cardiff Castle & Museum, plus vast adjoining Bute Park. For culture, try the National Museum & Gallery; or a show or concert at St. David's Hall, New Theatre or Sherman Theatre. For a complete change of scene, try the cafes and eateries – plus spanking-new Millennium Centre and National Assembly for Wales ("Senedd") – in the utterly revitalised Cardiff Bay waterfront district, just south.
To booze 'n groove
A good place to start the night is the Golden Cross (283 Hayes Bridge Road; T: 0292 034 3129;), a traditional pub in a fine old building, which also boasts wholesome home-cooked grub throughout the day – especially on a Sunday lunch, when things get incredibly silly and camp. Then pop a block to the Kings Cross (25 Caroline Street; T: 0292 064 9890;), the oldest gay pub in Cardiff. Serving the community for over three decades, the "KX" has been refurb'd to place itself apart from the Golden Cross and pitch things more towards them young'ns! With large windows to make all closets tremble, loyal punters cite a "cosmopolitan" ambience, which retains a "community" ethos.
Clamber into stylish nearby new gay owned and run lounge bar, The Loft (22 Caroline Street), a great place to chill and chat. Ditto loungy Bar Icon (60 Charles Street). For the wild, eccentric and exuberant, mince to Minsky's (Cathedral Walk, 42 Charles Street; T: 0292 023 3128;) barn of a cabaret bar which features top drag acts like Fanny Dazzle (lilting catchphrase "cum to Fanny"), oft hosted by Miss Kitty cum weekends – who shimmies and bitches with the best on the amazing stage, slap bang in the middle of the bar! It's hugely popular with gay men and hags-in-tow.
Drunk enough to dance now? Cheap and cheerful Exit Club (48 Charles Street; T: 0292 064 0102;) is open 'til at least 2am every night except Sunday. With two bars and central sunken jive floor, plus a spacious upper bar and courtyard, there's enough to stare at here to keep you wide awake. Just over the road, Club X (35-37 Charles Street;) – refurb'd following a fire in 2004 – pulls 'em in with multi-spaces: for R&B, cheese and some serious trance.
Pulse (3 Churchill Way;) boasts a comfortable leather-sofa'd bar area on ground level; day grubbery or night time chill zone on the upper mezzanine; and a larger floor in the basement, pumping chart and dance, and scene of many a drag display. This relatively new, compact yet brimming venue has shaken up the Welsh capital's clubbing scene like a gulp of fresh Valleys air.
To steam 'n cruise
Outdoor cruising means central Castle Park, only a five minute walk away from quarters queer – at night, entered round the side, criss-crossing the Taff! And cum rain or shine, the Locker Room (50 Charles Street; T: 0292 022 0388;) sauna steams and sweats away.
To stay
Park Plaza (Greyfriars Road; T: 02920 111111;) is a modern, stylish 4-star deluxe hotel bang twixt sites, scene and shops, enticing with its fab Laguna restaurant and bar, plus pool and spa!
BOX-OUT: THE BRECONS BECKON!
If in Cardiff, you'd be mad to miss the contrasting, stunning nearby Brecon Beacons hills – a mere hour or so away by road or rail!
Perched on a river and surrounded by valleys and mountains, little Brecon itself is highly picturesque – with castle ruins, cathedral, army museum, galleries, concert venues and fine eateries.
Flit from peak to peak on the great-value Beacons Bus service on Sundays and Bank Holidays; and if you can't quite make the giddy heights up Pen y Fan (886m), there's lots of nature and history to see just in and around the wonderful Brecon Beacons National Park Mountain Centre – including old iron age forts, bronze age standing stones, plus all the amazing mountainous vistas that surround!
The Coach House (Orchard Street, Brecon; T: 0844 3571301;) is a contemporary chic B&B plus gardens, run by delightful Marc and Tony, bang in the centre of squaddie-brimming Brecon; and serving one of the best breakfast selections in all Wales. They can even help organise a wide variety of massages.
Wales will get a Cardiff Pride on Sat 6 Sept 2008 – replacing the currently-suspended Mardi Gras, due to resume in 2009.
– ends –