Antigone – a vamp who will make you dance
Oh and by the way her name is pronounced Ann-tig-on-ee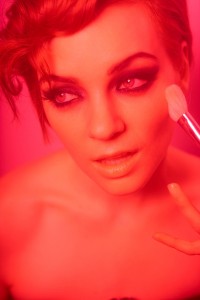 Kylie, Roisin, Alison mover over…new pop goddess is coming.
With her fierce single 'More Man Than Man' rolling down the hill with the speed of disco ball on fire, and her debut album 'AntigoneLand' to be released later this year, Antigone Foster is destined to be not just another club act but a serious quality input to our music scene.  Seb Kozak invited her for a chitty chat over a glass (ok a bottle) of wine.
More Man Than Man… please explain?
To be more man than man you have to be a woman. Not any woman but the sort that devours her friend in bed as an after dinner mint then gets very mad indeed when he interprets that as some kind of solicitation of a relationship. When that sequence of events happens, and when you have the prowess of a tigress and your friend doesn't appreciate that and is rude to you the next day, then there's only one solution and that is to deliver one hell of a sexy sermon as an ultimatum. And that's what 'More Man Than Man' is.
Tell us all about the album?
It's a window into Antigoneland, a large window with ivy round the edges and sparkles through the panes (or pains). There're all sorts of vignettes of different sides of my character and herstory in here, but they're a bit every woman too, in the Chaka Khan sense. As a playlist it's an accompaniment to a full night out. The chair-dancing make-up application with the cocktail at home; the grooving at the bar; the warm up gooey disco; the full blown shape throwing; the messiness; the eyeing up of the hottest fox on the floor; the seduction thereof; the snuggles into the morning light. I find speaking generically much less interesting but it's an intelligent dance/pop record with disco, funk, jazz and soul timbres.
You've collaborated with various producers and the like… tell us more?
[love] tattoo was where it all began. That was Stephen Allkins' project – he's a Sydney underground gay DJ who's been around forever, a big disco fiend with massive tats. Worked with Justin Shave who produced it and afterwards we felt we needed to prove we could be successful without Stephen. Hence, Etherfox; Lush main room house essentially. Signed to Ministry and then the Shapeshifters' label, which led to some writing and performance with them on their first album. My roots are jazz though… through and through.
How do you feel when you perform?
My amazing mother who was also a professional singer, recently sent me a beautiful edition of 'The Owl and the Pussycat' for my birthday and reminded me of one of my earliest memories. It was performing, singing this poem in the round if you please, age 3, to my elderly neighbours, all women. I forgot the lyrics halfway through and fled in humiliation. I still have that problem today, forgetting lyrics when under pressure. But I love performing. It's so natural for me to be a complete showpony that I have to sometimes hold back from eating my audience, or licking them very gently. Entertainment is in my blood and has been for centuries at least.
More Man Than Man released now on beatport and iTunes
Photos: Jochen Braun