Fairest of the Faroes!
Adrian Gillan explores the Faroe Islands, a stunning – and increasingly gay-friendly – North Atlantic outpost!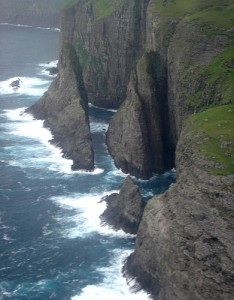 18 volcanic islands half way between Scotland and Iceland, separated by narrow sounds and fjords yet linked by bridges and tunnels: no land is more than 3km from sea on the Faroe Islands. They were first inhabited by Irish monks in the 7th Century AD, then Vikings; then colonised, first by Norway, then Denmark. Still a Danish dependency – though fiercely independent, and self-governing in many areas of life – Denmark says the Faroes need subsidy; the Faroes say Denmark just wants to filch its natural resources, along with Greenland's! In fact, we Brits handed the Faroes a taste of partial autonomy whilst ourselves occupying them when Denmark fell under Nazi control in WW2, encouraging them to hoist their own flag, which they now proudly do. The Faroese language is closest to Icelandic. Not EU. Main industries: fishing and – increasingly – tourism. 48,000 population; double that in sheep. Weather variable. Faroese króna is pegged to its Danish near-namesake. Two hour flight from London. GMT.
In December 2006, the Faroese parliament in capital Tórshavn outlawed discrimination on the grounds of sexual orientation, after a tight vote. This was partly in response to a then-recent homophobic attack on a popular, openly-gay local guitarist, Rasmus Rasmussen. Founded in 2003, Faroese LGBT organisation, Friðarbogin, aims to continue to raise awareness around LGBT issues and to get wider LGBT legal protections in the Faroe Islands, more in line with other Nordic countries. Its annual Pride (next one still t.b.c. – visit its website, below, for latest details) hosts panels and movie screenings, plus a march and rally in the capital. It is especially supported by students from across Scandinavia – yet another good reason to attend, were any extra were needed!
TO STAY
Hotel Tórshavn (Tórsgøta 4, Tórshavn; T: +298 350000;) – Central, modern, and clean, overlooking the harbour; with busy adjoining Hvonn brasserie, café and bar.
Hotel Foroyar (Oyggjarvegin, Tórshavn; T: +298 317500;) – Lofty, chic 4* offering, boasting panoramic views down over the entire Tórshavn bay; plus Glasstovan eatery.
Gjáargardur (Gjógv; T: +298 423 171;) – Wonderful guest house and apartments run by friendly Eirik and his family, in the spectacular coastal setting of Gjógv (below).
TO SEE & DO
Tora Tourist Traffic offer full-day, half-day and evening tours throughout the islands, often hosted by colourful owners Sámal Bláhamar and his wife – well-nigh local legends hereabouts. For extra freedom, hire a car – but dodge those sheep!
Tórshavn – The capital's attractions include Nordic House arts complex; the National Museum; Natural History Museum; wild Viðarlundin Park, with its central monument to those lost at sea; picturesque harbour; Skansin fort with its canons and lighthouse, originally built to fend off pirates; Parliament buildings; Pool & Saunas); and Rio Bravo (Tórsgøta 11, Tórshavn; T: +298 319767) eatery.
Puffins – Readily spied over summer, not least on the Vestmanna bird cliffs; or even on Mykines island – reachable by regular fab-value state-subsidised helicopter from the airport!
Kirkjubøur – Scarce ½ hour from Tórshavn, a wonderfully preserved medieval cathedral in what was the islands' main hub in the Middle Ages.
Esturoy – The next island up from the one Tórshavn's on features Slaettaratindur, the highest Faroese mountain, at 882 metres; and Gjógv (pronounced "dyeggv") – an idyllic village full of traditional grass-roofed dwellings at the foot of a valley spilling into the sea.
Northern Islands – Easily reached by tunnels and bridges; especially aesthetically pleasing in its hilly forms, and boasting Klaksvík – the Faroes' second largest town, population, 5,000.
TO BOOZE
There are no gay-only bars or clubs on the Faroe Islands, but these two in Tórshavn are particularly youth-dominated and gay-friendly…
Café Natúr (Áarvegur 7, Tórshavn; T: +298 312625) – Fab and welcoming bar and bistro on two levels; can get quite raucous late on in the evening.
Platform (Tinghúsvegur 8, Tórshavn; T: +298 316363) – Capital's main club.
– ends –