SHARLEEN SPITERI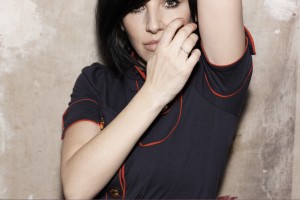 Stepping aside from her work with Texas for a moment, the poster-girl for low-key sex appeal and headstrong individualism, Sharleen Spiteri, talks to Bent about her forthcoming album, 'Melody'.
So why did you decide to release a solo album?
It's something I really needed to do. Lots has changed for me, personally, and I was asking a lot of questions about myself. This was a chance to explore that and get out this sound I had in my head. It was challenge, and that's what I liked. I had a very strong impetus to do what I wanted to do.
Is that why you called it 'Melody'? So that you could explore this sound in your head?
In a way. Music and song play a very big part in my life I've been searching for the right melody, and with this album, I didn't have to debate over direction. I had the freedom to choose my direction and remain faithful to it.
You've referred to this album as your 'ultimate personal fantasy record'. Why?
Well I've always wanted to do a Nancy Sinatra record. On this one, I've got to do that, and throw in all my favourites, such as Lee Hazlewood, Johnny Cash, Motown, Elvis . . . It's all these influences I've had, which I've got to explore now. But the vocal has always been central to the sound. There's lots going on, musically, but the vocals have to be the core of the thing.
You've been making music for over two decades, so how has your perception of making music changed since the early days?
I've been making music for a long time. It's part of my everyday life, but not in the way the normal stuff is. You know, I still have to do the shopping and make sure the cupboards are filled, and the music doesn't come into that. But I've learned lots of different things and been exposed to various influences. That hunger to create has remained, but it's a different kind of hunger now. I have more respect for the process and I appreciate it more.
In 'I Don't Want a Lover' you intentionally went for a non-stereotypical image, with a leather jacket and jeans. Why was that and has it helped bring you a bigger gay following?
It was 1989. It was a very different time. Most other records by women were overtly sexy. I wanted to be sexy in a different way. I've always had a very different view of what's sexy. For instance, there's just a pair of eyes on the cover of 'White on Blonde', and I thought that was very sexy.
But I don't think my gay following was so shallow that they liked me because I wore leather and denim. I think they appreciated that I was just being me—that I was being sexy in a different way. Perhaps they liked that.
Do you ever feel you have to do an Amy Winehouse to get in the press these days?
Well I think that's a waste of time. She's got such an amazing talent and she makes amazing music. But I don't have time to do things like that. It's making the music that's important to me, not the press coverage.
So does that mean you don't worry about matching up to your past success with Texas?
To be honest, I think I'm blinkered to it. There's no pressure for me to match what I did before. I mean, obviously it'd be nice, but I just want to make music and do my own thing.
And is there still any life left in Texas?
I can't really answer that right now. Texas will always play a part in my life, but I always focus on the task to hand, which is this album. If it feels right to make another Texas album, I will, and the same goes for another solo album.