Holy Sushi!
Cool kimonos! Adrian Gillan meets men with yen in Japanese capital, Tokyo.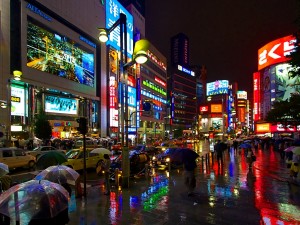 Whilst emperors stayed out of the way in old capital Kyoto, their shoguns – military rulers who had the real power – made Tokyo (at that time "Edo") their seat of government from around 1600 onwards, so placing it on the map, with a flowering of economy and culture. When American gunships arrived in the 1850s, forcing the opening of trade and commerce, the shoguns' days were numbered and imperial power re-emerged, with the emperor relocating to newly-dubbed Tokyo in 1868, thereby making it capital. Partly fearful of falling behind the rest of the world, when Japan opened its doors, it quickly devoured Western culture and technology – stalled only by the great 1923 earthquake. But the country also became increasingly militarised and expansionist – making incursions into Asia and even taking on America and allies after Pearl Harbour in 1940. Defeat, post Midway and atomic bombs, left Japan humiliated and in ruins. Sovereignty was only handed back in 1952. After a boom in the 60s, 70s and 80s came the bust of the 90s which Japan is now pulling itself out of. Jap pop: 130 million. Greater Tokyo pop: now over 13 million. No visa needed for short stays by Brits. No jabs. £1 = 200 yen approx.
Note: Although Age of Consent is 13 under federal law, this is overridden, up to 18, by all local laws. Porn, whilst wild, contains no naked dicks! And "J-queers" can be rather reserved – so go get 'em!
TO STAY
Hotel Monterey Akasaka (4-9-24 Akasaka, Minato-ku;) – Refined, central great-value hotel with a Euro flavour and the highest standards of service.
Chisun Grand Akasaka (6-3-17 Akasaka, Minato-ku;) – Modern, central hotel, also in Akasaka, near all scene and sights.
TO DO
Tokyo is a city best "experienced", so here are 20 must-dos…
Troll the Imperial Palace East Garden
Waft through Shinjuku National Garden
Discover bonsai or origami
Mull Buddhist temple (Asakusa Kannon)
Reflect at Shinto (Meiji/Yasukuni) shrine
Sift the Sword Museum (Samurai, Ninja,)
Absorb the War Museum (kamikaze)
Savour glitzy Ginza district
Undergo a traditional tea ceremony
Down some sushi/sashimi at fish market
Sip some sake while reading manga
See Kabuki, Noh or Geisha
Sit through sumo; or try karate or aikido
Enjoy the view from up Tokyo Tower
Croon in the birthplace of karaoke
Go starkers in a bathhouse or onsen
Ride metro, spying besuited "salarymen"
Try authentic local bad-boy bukake
Visit Kamakura, Hakone or Mount Fuji
Jump the bullet train to Osaka or Kyoto
And also keep 'em peeled for… garish youth fashions; ubiquitous gadgets and electro-goods, from weird hand-held games to heated toilet seats; dazzling neon nights; etiquette (both greet 'n eat); Tokyo Disney; "capsule" hotels, plus ryokan (local B&Bs); baseball, golf and other US influences; no shoes in homes and some eateries; culture of no tips; Spring blossoms (cherry/peach/plum); UK-style left-hand drive – and (hopefully minor) earthquakes!
Via Japan can – in addition to travel, transport and hotels – organise most of the above experiences, and many besides; with a range of tours and hands-on cultural activities, from traditional Taiko drumming to calligraphy and kite-making.
TO SNACK, BOOZE 'N BOP
Tokyo gay bars tend to be numerous, yet small and niche – not all of them foreigner-friendly. Those that are are packed into the compact Shinjuku Ni-Chome sub-district. You'll soon master the local address system (eg Shinjuku 2-12-3 = Shinjuku area sub-district 2, block 12, building number 3)…
Advocates Café (2-18-1, Shinjuku Ni-Chome;) – Open-air gay café right on the main drag.
Dragon Men (2-11-4 Shinjuku Ni-Chome) – Popular gay mainstay, with huge doors that roll open all summer.
GB (2-12-13 Shinjuku Ni-Chome) – Crammed video bar-in-the-round for foreigners and Jap chaps who like 'em.
Arty Farty (2-11-7 Shinjuku Ni-Chome;) – Large central U-shaped bar, plus open space for cruising and dancing. Twins with quieter sister, the nearby Annex.
The Annex (2-14-11 Shinjuku Ni-Chome;) – Same owners as Arty Farty. Long bar plus cruise space to the rear.
TO STEAM 'N CRUISE
24 Kaikan (2-13-1 Shinjuku Ni-Chome) – A vast number of dim dormitories where guys hang out, doze and fumble. Don't expect privacy!
Shinjuku Ni-Chome park – Small park in the heart of gay area. Rent plus lots of odd bods.
BYGS Building "garden", Shinjuku Ni-Chome – Small outdoor area with benches, on floor B/1.
GETTING THERE
Virgin Atlantic flies between London Heathrow and Tokyo daily, with Economy fares as low as £659 return, including taxes – and offering some of the best in-flight entertainment and service in the business; or why not pay that bit extra to stretch your legs in award-winning Premium Economy? Heathrow's massive new £11m flagship Virgin Clubhouse lounge provides the ultimate pre-flight experience for passengers, with an array of exciting and unique features – from neck and face massages to hair styling. And the Virgin Clubhouse at Tokyo's Narita Airport sets new standards in service and style.