He Once Was An Asshunter…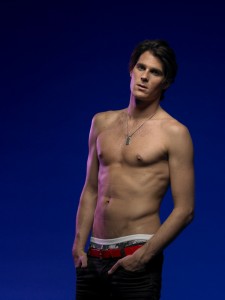 Basshunter hit our radio airways earlier this year and debuted straight at number one. However in his home Sweden he has sold millions of records and has had the biggest selling single since ABBA. Simon Savidge caught up with him as he prepares to release the follow up and finds out all about those 'porn' tales.
After the success of 'Now You're Gone' do you feel pressure to have a hit and more importantly a number one?
Yes, I mean especially after a single is such a success Now You're Gone was number one for 5 weeks here. Back home the original version was number one in 12 countries and so there was pressure there too. I think I feel kind of relaxed as I think this new single is so strong. The feedback and airplay is amazing.
How did it feel having the fastest single since ABBA in Europe?
How can I explain, it's like every cell of your body is having a major orgasm, so I am in constant orgasm I guess. Yeah, my life is one big orgasm right now. I'm really enjoying it.
So tell me about the album?
I am really pleased with the album. I think every song is unique. I know with dance artists people can be dubious. Its not one of those albums where there are only four songs that are very obviously the singles and a load of noise in between… you call them fillers right? It's not one of those albums you don't think track 1, 3, 6, 7, 8, 9, and ten all sound the same. It's got some dance, some pop, covers everything, and it is a party album… an album for good times.
So could there be a gay anthem in waiting?
I hope so yeah.
Are there any duets, have you done anything with your label mate September? (Laughs) There are plenty of things that I have done with and too September. Ha, I am joking of course. We haven't worked together but it's something I would like to do as she is so talented, it's good to see her doing so well here, her live shows are amazing. I have done some duets with a girl called Lauren but you guys don't know her… yet. I want her in my one hour shows we are going to do some really new interesting stuff. It's boring to listen to my voice for a whole show. 
Would you like to crack America?
Yes, I am going to tour out there later this year; I am so excited about this year.
What about remixing for other artists?
Remixing is fun for me I can do a remix really quickly and I would love to do remixes for loads of people. People you wouldn't expect?
Could you see yourself writing for other people?
Maybe, I would like to do stuff for just me at the moment, but if it was a beautiful woman then yeah maybe.
So Kylie…
Kylie, September, erm…
Madonna maybe? Or are you of the mind she is past her prime?
Madonna is amazing, she is a true celebrity. I would so do her, in many ways.
Where did the name Basshunter come from?
I originally wanted to rename myself Michael Jackson but that one was taken.
Oh we are sure about him here so it's a good thing you didn't.
No one is sure about him anywhere I don't think. So that name was taken and I went by Asshunter for a while (laughs) funnily enough my record label weren't too sure about that. So I added the B which makes sense as there is a lot of bass in my music. Oh and I love to fish… sort of, so I guess I am a Bass Hunter too.
When you were promoting for 'Now You're Gone' you said you would pose in a mankini…
Which I did and they chafe. I don't think they are the sexiest look ever are they?
It depends who is wearing them I think, maybe. So what pact have you made if you have a number one with 'All I Ever Wanted'?
It's difficult to top that, maybe a naked show, ha. I have actually been using it to get closer to my fans asking them what they would like me to do. So they have come up with some amazing ideas. One guy has suggested that I do a bungee jump in a revealing pink bunny suit with a firecracker in my ass. I am not sure about the firework bit as I don't think it would go off but that is my current favourite. I'll film it and put it on YouTube.
Now let's talk porn…
(Laughs) Sure…
You not only wore the mankini but there was also talk of you making a porn film.
(Laughs) Indeed there was.
Firstly what qualifies you to be a great porn star?
Ha, ha, ha. How do you say… It's not small. I can promise you that it isn't small so there is that. I am not shy; I love sex and could happily have sex for hours and hours and hours. Sometimes days. I am not on of those people who likes it with the light off, I want all lights on, all positions… face sitting, sixty nine, all angles… everything.
So was this something that was a possible career if the music hadn't done well or just a story blown out of proportion?
I'm gonna tell you the true story. A journalist of a well known paper said 'if your music career goes tits up what would you do? Would you consider being a porn star instead?' I said 'no, but I do love porn'.
So what would it take to have you in a porn movie?
Ha, that's what they asked. I think if someone paid me £1,500,000 pounds I would do it. It wouldn't just be for fun…
…Gay or straight porn?
Offers can be sent to me and I will discuss the details with the people who can show me the goods. I think I have what it takes though.
So not porn for now but what is next for Basshunter?
A third single, the problem at the moment is which one as we love them all. Then have trips to Bangladesh, Australia and then who knows maybe Basshunter the non porn movie. We will see.
And more days in constant orgasm?
Yes, definitely more days in constant orgasm.
'All I Ever Wanted' the new single is out on the 7th July,
'Now You're Gone' the album follows on the 14th July.
Released on Hard2Beat Records.