FIERCE PUSSY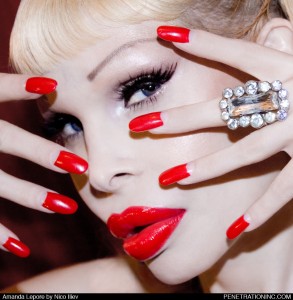 Amanda Lepore is not an easy person to interview. She crams all her phone interviews into one afternoon (NYC time) and she doesn't do email. In fact, her response was:
'I'm much too busy working at night, going to the gym, tanning, bleaching my pussy–and teeth, drinking champagne and visiting my lovers all over the world, to even bother having a computer.'
Instead we journalists have to make do with tidbits slung from across the ocean by press reps and her best friend, Cazwell. You can ask The Ones, Naommon, Scissor Sisters and Larry Tee about Amanda—but you can very rarely ask the woman herself.
Amanda Lepore (born Armand Lepore on 5th December, year unknown) is best known for being the muse of David LaChapelle. Along with Cazwell and the Scissor Sisters, she was involved in the 90s' Club Kids scene in New York. She and her contemporaries appeared on talk-shows dressed to the nines and partied the night away on subway stations to the sounds of the boombox.
Now Amanda's back with her brand new gag-alicious debut, 'Fierce Pussy: The Remix Album'. This album includes fan-faves such as 'My Hair Looks Fierce', 'Champagne', a cover of  The Waitresses' 'I Know What Boys Like' and the current single 'My Pussy'. This is a teaser EP, unleashed to tide her hungry fans till the release of her official debut album, 'Brand New Woman'.
Original versions of these songs were produced by Fatal Art Syndicate and Cazwell. Those up to date on Lepore lore will remember that Lil' Kim favourite 'I Know What Boys Like' was also on 'Another Gay Movie' and 'Champagne' was in the film 'Boy Culture'.
Indeed, Lepore is now such an institution, Perez Hilton is now doing his own version of 'My Pussy' entitled 'My Penis'.
With 'Brand New Woman', Amanda hopes to show us she's still the world's number one tranny (with, as she points out, 'a fully functional vagina!').
Photo: Nico Iliev