Strictly Ballroom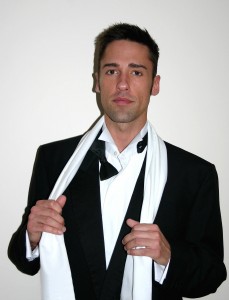 Jamie Thomson is a cutting-edge new choreographer for New English Contemporary Ballet, and he takes a moment out of his busy schedule to discuss the influences in his life.
Can you tell us a little about yourself and what you do?
I'm a choreographer for New English Contemporary Ballet and artistic director of Nottingham Youth Dance, the youth company in association with it. I trained at The Royal Ballet School from an early age and worked professionally as a dancer with Scottish Ballet and Vienna Festival Ballet.
Didn't you become disillusioned with dance at some point?
As I'd trained as a dancer from a very young age and then worked professionally, I found that the only people I knew were dancers. It was almost like being trapped in a very small bubble and never knowing anything or anyone different. Because training and working as a dancer is basically your life, you live and breathe it, experiencing anything outside of that is quite difficult. And at that point it didn't suit me. It came to the point where I wasn't enjoying performing anymore. I would go out on stage and not enjoy it and if you're going out on stage and not loving that feeling, you're not giving the audience what they're paying for, and not being totally true to yourself as an artist.
Wasn't there a time when you became embroiled in the darker side of the London club scene?
My extreme clubbing days were a major high. I met so many interesting people from all walks of life, from celebrities to prostitutes—though sometimes the two would go hand in hand. It didn't matter who you were or what you did when you came together in these places; I'd managed to find a side of life completely opposite to the strict discipline of what I'd known before. When I danced in clubs like Trade and Heaven, I could totally let go of my body and move in a way that I'd never been able to in all my previous years as a dancer. The choreography I create today is majorly influenced by that experience and I wouldn't go back and do it differently in any way at all. Not only in the style of dance I create but also from a lot of the experiences I had with people involved in the scene. However, it did almost become like a religion, and before long it was the clubbing that was controlling me and not the other way around. It dictated my life and everything about my lifestyle, until I went into a downward spiral which I had to pull myself back out of. I think the club scene is an amazing part of gay culture, which for some becomes an obsession in their life. And for those that this works for, I think it's great. But for me it's an experience that enhances my life instead of dictating it.
What are you working on at the moment?
I've currently just created a new piece of work called ".com together" which is being performed in New English Contemporary Ballet's current tour. It's a piece which looks at the idea of internet chatrooms and the sterility of internet sex and dating in general. It combines the style of club dancing with the strict techniques of classical and contemporary dance to explore relationships between people who've literally come together for the first time. Once the tour finishes I will then be taking the piece up to the Edinburgh Fringe and performing it at Zoo Venue in 10th -16th August.