Smooth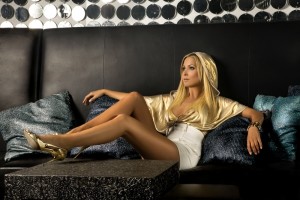 At home, Velvet has outsold fellow Scandinavian pop heroine, September, by some margin, becoming a Youtube phenomenon in the process, and with Viking-like zeal, she's about to conquer the UK (though she's promised pillaging will be kept to a minimum).
Velvet has already notched up several pan-European hits, including Deja vu, Mi Amore and Don't Stop Movin', while her debut album, Finally, has cemented her status as Sweden's pop-queen de jour. Her current hit-in-waiting, Fix Me, is already a resort anthem over in the Med, and is now one of the most requested tracks across mainstream UK clubland.
Born Jenny Pettersson, Velvet grew up in the southern Sweden city of Helsingborg. As a teenager she moved to Stockholm to study at The Ballet Academy. Then as a student, she began working as a singer at Stockholm nightclubs to pay for her studies. Singing soon took over her life, and she became a backing vocalist for prestigious Swedish acts like Carola and E-Type.
Velvet kick-started her solo career with the singles (Rock Down To) Electric Avenue (a club take on the Eddy Grant reggae classic) and Don't Stop Movin (originally by UK act Livin' Joy), both became huge club and radio hits all over mainland Europe. Fix Me trumped Septembers Cry For Me in Scandinavia, and is set to repeat its success over here.