A Higher Place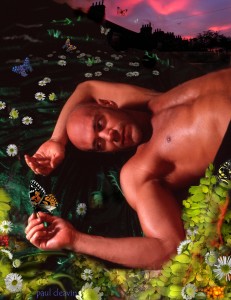 After achieving great success in the club and dance charts with his Hed Kandi single 'A Higher Place', performing all around the world … and being one of the five presenters on Living TV's 'Queer Eye for the Straight Guy' – Peyton returns to the chart with a fine re-working of his hit. Bent caught up with House music's most soulful singer as he toured Australia.
What did you do before the music got hold of your bollocks?
I was a whore, a drug dealer, and a petty thief.   And when that wasn't enough to pay the bills, sometimes I worked as a waiter to make ends meet.  Oh, and I was a professor of English literature for a few years.  But the music always had a hold of my bollocks.  Even when they were just wee little gonads!
When you're not Performing what do you do to relax?
Well, I'm always performing.  But to relax I'm a big fan of dirty martinis, a good book, and the occasional valium.
The TV stuff must have been fun… any further plans for TV stardom?
The TV stuff was not fun.  TV IS NOT FUN to make.   It's only fun to watch.  But hey, you never know.  I never thought I'd get this far, so I'm open to whatever grandiose ideas the universe wants to throw at me.
Where's the best place you've performed?
Hmmm, I used to always say Ibiza.  But now that electro has pretty much killed off the whole concept of having FUN in a club, even Ibiza just doesn't do it for me. My best gig recently was NYE in Seoul, South Korea.  They go completely mental for soulful house.  I haven't seen anything else that compares recently!
What gets you up and bopping?
Chunky funky vocal soulful music that you wanna dance to – with or without the aid of drugs!  I think that's why the Koreans still love their soulful house.  There are NO drugs in Seoul, so nobody is in a K-hole, or so G'd up that all they care about is getting laid.  They actually come to the club just to boogie and party with their mates, and LISTEN to the music.  Novel idea . . . eh?
Who's on your ipod these days?
Well, lots of me, of course.  I use my iPod for work mainly, writing new songs or re-working stuff that I'm not happy with.  But of course I've got tons of Hed Kandi (coz I get them for free), and I'm a big fan of Ella Fitzgerald, Nina Simone, Cesaria Evora, Amy Winehouse, and maybe I'm a little obsessed with Rufus Wainwright.
Do you have time for a relationship… if so, who or what's your type of lover?
Sadly my long-term relationship came to an end last year, partly due to the increasing pressures of my work, my obsession with my work, and the constant travel.  As for my type of lover, hmmm . . . I'm pretty diverse in my tastes.  I have generally gone for dark and handsome, ya know?  Latino, Lebanese, etc.  But hey, these days my favourite type is the kind that just happens to be waiting for me in whatever country I happen to be in, and who doesn't rack up too much on my room service bill.
Peyton's "A Higher Place 2008" is out now to download on
Toolbox House.  Including new remixes by 7th Heaven, Bassmonkeys,  Max Sanna & Lee Yeoman and Federation residents Nik Denton & Gregg Holden
Photo courtesy: Paul Cleavin & Ian Kane