Me & Mr Jones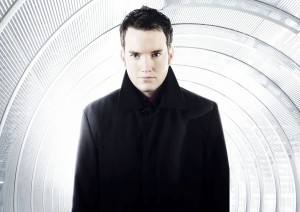 Gareth David Lloyd is most well known as the sidekick and on/off lover of Captain Jack, Ianto Jones. He also is the lead vocalist of 'The Blue Gillespie'. Simon Savidge caught up with him to discuss kissing John Barrowman, Ianto and Gwen in a bitch fight and 'Sex, Wales and Anarchy'.
So Torchwood is now something of a cult how does it feel to be part of that?
It's great; I really love this job and wouldn't change it for the world. I am working with the best people… I honestly think they are all great. We are very lucky, there is no eating alone or being Billy No Mates like on some jobs you can get. I also love the slight strangeness it has with mad conventions and all these Sci-Fi fans its brilliant.
Now it's so big in the States would you like to make your way over there?
Who wouldn't? It could be fantastic; sadly America is the hardest place to crack in terms of acting so I think it would be bloody hard work. I would love to go over and do some stuff for HBO or do a big film; come on anyone would given half the chance. I do love Torchwood though; I'm not going to leave or anything daft like that.
So are you saying there is definitely going to be a third Torchwood series?
I can't say for definite. People like it and they are certainly watching, it has great viewing figures and we would all love to do it. I am pretty sure that series three is in the pipeline.
How is it copping off with John Barrowman?
Ha, ha, ha. He's very professional. I never had any issues 'copping off' as you put it with him. I don't see the fact that he is a bloke is an issue it's a job, I am not doing it for jollies? He's very professional but he loves to take the piss and mess around, we have a laugh. He's hilarious.
Have you seen his famous 'appendage'?
(Shocked) You can't ask me that, well you can. I will say 'maybe, maybe not'. I'll leave you guessing.
You and John are both very good looking blokes; does it bother you if gay men all over England are using you for their fantasies?
No why should it? I think it's quite flattering. I'm not gay myself but it's no issue at all. Torchwood and Sci-Fi in general has a large gay fan base, which I think is brilliant, I get some interesting fan mail too.
You have worked with Russell T. Davies before haven't you?
Yes, we did something called 'Mine All Mine' where I played Yanto Jones. I then got the part in Torchwood which was originally named Idris Hopper. I think the change to Ianto may have been a small nod or recollection.
You are also a singer in band 'A Breathe of Blue Fire'…
We've actually changed our name now to Blue Gillespie.
Oops, sorry. How did that come about, have you always wanted to be a singer?
I actually started out with music lessons and then went into acting. I would say the singing is more of a hobby really. We do heavy blues kind of stuff.
So could we see you doing singing instead of acting, you could be on the next season of X Factor?
I have nothing against those shows; it's just not my sort of music. I am happy in the band I am in. We are doing a big gig at The Point in Cardiff bay on the 20th of April part of 'Sex, Wales & Anarchy'.
That sounds unusual; please tell us more particularly the Sex bit?
(Laughs) There won't be any sex exactly. Well I don't think so. It's a festival of documentaries, music and other performance art.
Captain Jack is flirting with Ianto, Gwen and Captain John Hart. Are there going to be any cat fights?
Not that I know off. He just gets it when and where he can, not John, I mean Captain Jack. I think I would win in a cat fight, maybe. You never know Ianto might cop off with Captain John.
Dr Who crossed over to Torchwood with Martha Jones, could we see a cross over back? Could Ianto be a Dr Who Assistant?
It's quite possible. I couldn't tell you though; I'd have to kill you.
The new Torchwood Series 2 DVD's will be out in spring with the complete collection out in June. The new Torchwood books 'The Twilight Streets', 'Trace Memories' and 'Something in the Water' are out now by BBC Books.
'Sex, Wales & Anarchy' 20th April at The Point, Cardiff Bay.