Sebastian Kozak has 60 seconds with Katherine Ellis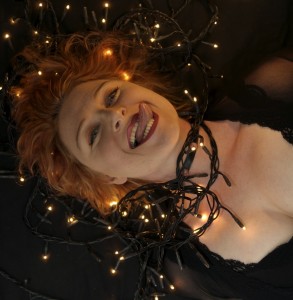 With over 20 years of experience in the music industry and a string of hits with such big names as Roger Sanchez, Freemasons, Jason Herd, Soul Avengerz, Superchumbo, Bimbo Jones, Mark Knight – Katherine Ellis is one of the most influential artists on the dance scene. 2008 is set to be another successful year with new collaboration with the pioneer of house, the French guru Cerrone!
How did you get to collaborate with Cerrone?
A French songwriter called Ilan Tenenbaum tracked me down to write and perform another song called 'Loverboy' with him, which Cerrone took for his 'Celebrate' album, and then he asked me to sing 'Laisse toucher' for the album as well. It is the first single from the album and the soundtrack tune for a new movie called Disco starring Gerard Depardieu.
Who has been your favourite producer you worked with?
I don't have a favourite, but Marvin Beaver (Dylan Rhymes) I have a soft spot for, he makes me laugh, and his music is hell-cool. Bimbo Jones are also fab, really talented and fun to work with, we have become really good mates, and we are signing an album to Tommy Boy in the States this year!
You made a home video to 'Harlem one stop' which can be found on youtube. do you think that with the youtube and myspace generation this is the way of creating music videos? Cheap, cheerful but effective!
As you point out, it's a good way to reach people inexpensively, I wouldn't say that we set out to make a home video for 'Harlem' as such, it was just a joke really, but people seem to like it! It's better than no video…
We heard that you worked with Robbie Williams on a track. What's the story there?
No story sorry! Didn't even meet him… Ii did some backing vocals on 'Kiss me' produced by Dave Lee, I have worked with Dave for years on various projects including 'Fascinated' by Raven Maize.
Don't you think that record companies do not appreciate top line writers and singers well enough promoting mostly djs/producers?
That's not a problem for me, I only work with people who respect me.
You have a big gay following, how does singing in gay clubs differ from straight venues?
Gay audiences really know their music and love a diva, they know how to party and they are very honest and generous with their applause if they like you, which luckily for me they seem to. I really like the feel in a gay club, it's very inclusive and supportive of self expression. Some commercial straight clubs can seem dull by comparison, if the crowd is young and inhibited and swayed more by current trends than talent. But on the whole I can rabble rouse wherever I am.
What work have you got in the pipeline at the moment?
A cover of 'Nothing going on but the rent' with 7th Heaven signed to MOS will be out in the next few weeks, getting a great reaction, new single and touring with Cerrone, more pa's worldwide, writing new material with Mark Knight, Meat Katie, Lee Coombs, Dylan Rhymes, the Soul Avengerz, Jolyon Petch, Jon Fitz to name drop a few…
Do you find it easier to work for other people or yourself and who is the singer you would love to write for?
Easier by far to work for me… I'm in charge! I am happy to write for any singers who sell lots of records !!!
Cerrone vs Katherine Ellis – Laisser toucher out now!