Andy Scott Lee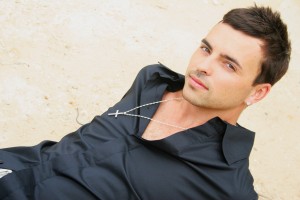 Andy Scott Lee has done it all, he's been in a boy band, was on Pop Idol, had a reality show with his wife, and tried for Eurovision. Now he is back with a solo career and Simon Savidge caught up with him to discuss his hectic life.
So tell me all about the single 'Unforgettable'?
It's a song that I wrote for my missus but I think that it's perfect for anyone who has found someone that they really love. It's out near Valentine's so it's perfect.
What about the album, what type of sound can we expect?
We're still putting it together, it's almost done. I mean I love Stevie Wonder, Michael Jackson etc. It's based on all the people who have influenced me and whose music I have loved. It's not all ballad based there's some good mid and up tempo tracks on there too. It should be out shortly after the single we're looking at March.
Do you think things like the X Factor have been detrimental to pop, I mean now if you don't sell a song in the masses Leona has you're a failure?
With shows like that you get a mass audience, however I also think Leona has an amazing voice and good material, when you have done a show that's got the perfect tool to sell records, each week you perform to millions of people and they watch your journey. Mind you I say that but Dannii Minogue didn't do to well with her last single did she? It's great for the winner but not other artists.
Would you recommend it to people who want to get into the industry?
I'm a bit of a hypocrite as I remember with Will and Gareth they did a few auditions the live shows and that was it they were huge. With 3SL we had to graft and slog to get a deal even though everyone thought it was easy as Lisa was our sister. However, I then went and did it and yeah I would recommend it. You've got to do what you've got to do to get your dream.
Do you feel now to sell records you have to 'do a Britney' and have breakdowns and be falling out of clubs?
I honestly do. These days you need to be taking bloody cocaine and falling naked out of clubs. To be fair Amy Winehouse is phenomenal and the fact that she's so messed up is a real shame.
Do you think you and Michelle will do any more shows together?
Yeah definitely, I mean look at what Newly Weds did for Nick and Jessica. People say why do you do it as it's very intrusive but we enjoy it. Our last show did great; we have no problems with it. But yeah there should be a second series, maybe it could be the divorce, ha, I didn't say that.
What about an album with Michelle, would you do a Jordan and Peter?
I don't think so. They do what they do and they are on another level, they can get away with it I'm not sure we could. Never say never though.
You've done a boy band, Pop Idol, reality TV and now a solo career. Which is the hardest?
I know, I know and I'm still going (laughs) I think being on your own is hardest. I don't dance much anymore but I don't have my brothers to hide behind. It's also easier in some respects as there can be less drama.
What else would you like to do?
I've just done Panto, which I loved and we were working with Mickey Rooney and I think I would like to give acting a go in the future. I would also really like to do the West End; something like Joseph would be amazing. Did you know I auditioned for that and they chose Darren Day over me? I would have loved that role.
You and Michelle did Mr Gay UK last year how did you find that?
It was wicked, I'd do it again, and I had one of the best nights ever. It was a bit of an eye opener but so much fun. I was really nervous. It was brilliant though and I think everyone had a great night, I got absolutely hammered.
How important to you is your gay fan base?
Really important I would say 90% of my gigs are gay gigs, I also did a lot of gay shows with 3SL and I'm not just saying this but they are probably the best shows and with the best audiences. Everyone really gets involved and they have been really supportive.
Single: Unforgettable – Out: 11th February – Megafan Records