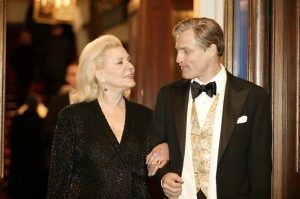 One of the stars of The Walker and a veteran of the silver screen for over sixty years, Lauren Bacall remains one of the few Hollywood stars who justifies the tag 'legend'. Arguably best remembered for her numerous on-screen collaborations at the outset of her career with her first husband Humphrey Bogart – she is still very much a working actress at 83 years of age. Bacall gets to play Washington lady, Natalie Van Miter, who is one of a coterie of Canasta-playing gossips who swarm around Woody Harrelson's society escort, Carter Page III. Here she talks about working on the film and the things that bug her.
Do you like playing Canasta, like your character?
Yes! I love Canasta. We used to play Canasta years ago in California. It's a fun game. We drove Paul (the  Director) crazy, because we all wanted to play the game. We all played Canasta and we all forgot our lines. Paul said, 'Stop playing the game! Play the game when we've finished shooting' but we used to sneak down to the bar and to play it. We drove him mad!
What made you pick this role?
Made me pick it? I'm lucky to get it. I don't have big choices. They don't write parts for women, anyway. There are no parts for women. Playwrights are not writing plays. I don't know what is happening, except that the performing arts generally in America – because of our fabulous leader – have gone right down the tube. He doesn't even know what the word 'art' means. He's never heard of it. He's such an ass. He's so horrible, I hate him.
Do you understand this notion of women needing society walkers?
I do understand that, because I knew Jerry Zipkin, who was a walker in Washington. He was a great pal of Nancy Reagan and Betsy Bloomingdale and all of her friends, and the gossip was rampant with him but he was very funny and a very wealthy man. What's easy to understand is how a woman alone always needs to have an escort. I don't have many escorts in my life. But I don't like to enter rooms by myself.
Do you still enjoy acting?
I do. In a way I enjoy it more. I've been working in a lot of independent movies with a lot of young directors I'd never known before and I always wanted to be an actress. I'm such a ham. I love hiding behind other characters. I find that it gives me freedom. I think it's a great profession. I have tremendous respect for real actors, for real, wonderful actors. Not celebrities. I have no respect for celebrities, and I object to being called one, so don't try it! I'm an actress, not a celebrity.