Naked Boys Singing – now on DVD
Get Naked!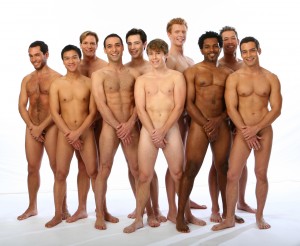 The raunchy revue 'Naked Boys Singing' is now available on DVD… packed full of hilarious songs, stunning choreography and more than its fair share of naked flesh. The show stars Kevin Stea, the acclaimed dancer who has worked with the cream of the entertainment world including Madonna, Michael Jackson, Britney Spears, Cher, Whitney Houston, Prince and Beyoncé to name but a few of his credits. Bent recently caught up with this very busy man to see how he got involved in the project.
I was shooting a commercial with the director, Troy Christian, when he brought up the project in casual conversation. My main question was, "How long do I have to get in shape?"  Vanity, thy name is Kevin!  My next question was, "Can I have a night to think about it and get an important second opinion?"  My man was all for it!
What were the auditions like… did you have to do anything outrageous at all?
The fact that I had to audition at all is outrageous.
No, actually I think they could have asked for more. I just had to sing a capella and get naked briefly.  I could have been singing and dancing show tunes naked in front of the rest of the cast!  Wait, that was the shoot… or was that the afterparty…
What had you done up to this production?
I've been performing for 19 years now.  Dancing, singing, choreographing, modelling. 20 films, 50 commercials, 50 videos, tons of TV episodics, variety and awards shows.  In the UK, you may have seen me on Madonna's tour in "In Bed with Madonna", the movie "Rent", Charlie's Angels, Michael Jackson's Blood on the Dancefloor video, on Top of the Pops with Ricky Martin, the 2006 TV Europe Awards with Rihanna, or in some commercials for the Gap (I did 9).
Where did it tour… and did it create any bad publicity?
People who had not even seen the show shut down the production in Atlanta.  The fact that that happened is more important than any review, and invaluable in identifying bias and haphazard censorship and opening the conversation.  I don't think any publicity is 'bad' publicity, though Britney Spears is pushing that envelope.
Do you think the audience should be naked as well as the cast?
Wow, I'm not sure if the audience or us would be able to concentrate!  I think it would provoke a very powerful primal response, as all high art does (wink).
Were there many people wanting to dance and sing… and get their clothes off?
There were a few in the audience. We just have that effect on people. As for the auditions, there were quite a few.  Still, finding guys who could dance, could sing, that were easy on the eyes, available to work, not too covered in tattoos or piercings, and wouldn't get an erection the minute they took their clothes off, was not an easy task. Note: I got away with the only tat and piercing. Sadly they did turn away a few great guys because their skin 'accessories' were too distracting, as well as one guy whose package was just too, let's say, 'substantial' for this particular project.
To win a copy of this fantastic DVD just answer this simple question.
The city of San Francisco is in which American state?