Gran Canaria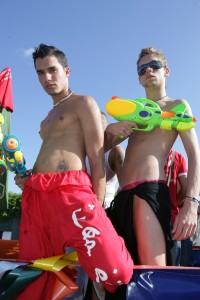 The year round Gay sunshine destination Playa del Ingles on Gran Canaria is growing in popularity amongst European Gays. Traditionally more frequented by Gays on the other side of 40, Playa del Ingles has seen an increasing number of Gay visitors in the age range of 18-35. When asked what the main reasons for going to Playa del Ingles this vacation were, almost 90 percent of this age group replied that they preferred the party scene on the Island over those of other popular destinations.
Of course the prices of food, drink and accommodation are a factor of importance as well. As one of the interviewees put it : "I can have fun for a week and party every day and still end up with more money in my pocket than after a short weekend on Ibiza".
This trend has not gone unnoticed by the local entrepreneurs, bars and clubs are constantly rejuvenating and are organizing parties, events and activities that are aimed at attracting this group.
Plenty of companies offer flights, package holidays or personalized vacations here are just some who will be able to help.
www.sensationsholidays.com
www.throb.co.uk