Framed – Doris Day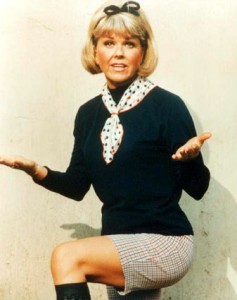 Like all icons she changed her original name of Doris Mary Ann von Kappelhoff, with a name like that you've got to be famous, to the more demure Doris Day.
She's a trouper, Doris has had it hard… having been in several violent relationships, her son was abused by her third husband and sadly she has outlived him after he died from melanoma. After his death she sprang back with her 'Doris Day Show' portraying herself as the perfect mother and housewife… a move she says "…nearly drove me to the edge."
Like any true gay icon she has been married four times and nearly remarried one of them – fickle.
She was the original 'beard' rumoured to be dating Rock Hudson, who she then claimed 'was not gay' before he died of AIDS, and at another point Cary Grant whose sexuality has always been dubious.
She had three number ones in the UK and was the first artist to have the same song become number one twice. 'Secret Love' was also covered by uber-gay George Michael.
She has released 28 albums putting Madonna and Kylie to shame.
She loves animals; her dogs have their own house (no really) and co-founded the charity 'Actors and Others for Animals' in 1971.
She has stared in 43 films of which 'Calamity Jane', 'Love Me or Leave Me' and 'Pillow Talk' were her most successful.
She has never won an Oscar for her acting though… she was robbed. She did however win an Academy Award for 'Que Sera, Sera' a song she originally refused to record (we love a diva) and once had said "Well that's the last time we will ever hear that".
She turned down the role of Mrs Robinson in the Graduate due to 'morals and tainting her girl next door image' …get her!
The Doris Day Anthologies and 'Doris Day Show' Box Sets can be obtained from all good DVD outlets.