Fort Lauderdale  – enjoy the difference.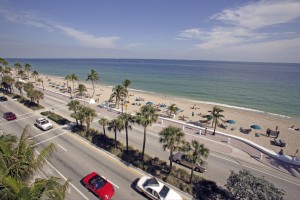 Fort Lauderdale is a more relaxed, less in your face, gay destination than its brash Miami Beach neighbour – 30 miles to the south. Here personality and friendliness count for more than the body beautiful.
Much of this results from the development of the Wilton Manors area into a gay neighbourhood. With over 100 gay owned establishments including shops, neighbourhood bars and restaurants. Throughout Fort Lauderdale, there are gay clubs for all tastes – Dance, Bears, Strippers and Leather Bars.
Locally there are Art galleries, nature reserves and parks and 22 miles of beaches with 3 gay stretches at 18th St, Sebastian Street and John U Lloyd State Park.
The beach is populated with gorgeous bodies but less conscious about the way they look than in other parts of the Sunshine State.
Three hours up the Florida Turnpike (toll) gives you Mickey and the Magic Kingdom or any other of Orlando's theme parks, Two and a half hours up I-95 takes you to the Space Coast and the Kennedy Space Centre. Head south to Miami and you are still close enough for a night out in a South Beach club with only 45 minutes drive home.
Meanwhile, Greater Fort Lauderdale, one of the top gay travel destinations in the USA, has unveiled its 2007 Rainbow Vacation Planner, a complete guide dedicated to gay and lesbian travel to Fort Lauderdale. The Planner includes a detailed list of 86 hotels and resorts that cater to the gay and lesbian markets, including 31 gay-owned properties, plus information on restaurants, shopping, nature and adventure attractions, fitness clubs, arts and entertainment.  A multitude of gay-owned establishments in Wilton Manors, a bustling hotspot for residents and visitors, offer several dining, nightlife and shopping options including Georgie's Alibi, Rosie's Bar & Grill, Galanga Thai Kitchen & Sushi Bar, and New Moon.  Other trendy places to "see and be seen" include chic Las Olas Boulevard. and downtown Fort Lauderdale.
"Our overall marketing strategy includes a strong focus on the gay and lesbian traveler," said Nicki E. Grossman, president of the Greater Fort Lauderdale Convention & Visitors Bureau.  "It is a market that we have been very successful in attracting to our destination, and a large part of that success is due to the diverse tourism product that we offer."  The 28-page, full-size, full-colour guide is available by calling 0870 770 0710 or by visiting the Rainbow Carpet section of the Greater Fort Lauderdale Web site at www.sunny.org/rainbow.