Viva Andalusia!
Very Moorish: Bent's Adrian Gillan gets to grips with gay Granada – Andalusia's historic gem!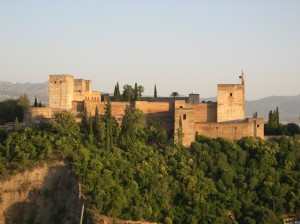 Granada is a dramatically-landscaped uni town brimming with young cuties yet with a rich Moorish past, set amidst the Sierra Nevada mountains, a cool 685 metres above sea level – topped by one of the world's great citadels. Also, birthplace and home to one of Spain's most famous LGBTs: poet and dramatist Federico García Lorca, who was executed by Franco's fascist homophobes in July 1936, at the start of the Spanish Civil War. Granada now, mercifully, has much to offer its visiting queers.
TO STAY
Hotel Guadalupe (Paseo de la Sabika; T:  (+34) 958223423;) – Just 50 metres from the Alhambra, and a mere ten minute walk from the town centre, it's hard to beat this plush, atmospheric yet great value Andalusian gem. Fab restaurant too.
TO SEE
Spend a day exploring the most stunning Arabic monument in Spain, strewn majestically across the Alhambra hill – including the Alcazaba fortress, Generalife gardens and Nasrid Palaces. Dating back to 1238 in parts, it is an exotic Moorish splendour. Then, meander through the warren of bustling shop-and-café-lined streets in the Albaicín district, on the hill opposite; and, as darkness falls, tour the gay venues, some of which cluster – somewhat aptly, given the currently weakened state of Spain's Catholic Church – just to the side of the Cathedral quarter. Note: No one hits bars or clubs here pre midnight!
TO EAT
Gayedra (Tendillas de Santa Paula 6; T: (+34) 958 201 437;) – Gay-dominated eatery in the heart of the queer quarter, with friendly waiters and frequent drag shows.
TO DANCE, BOOZE 'N CRUISE
Tic Tac (Horno de Haza, 19; no phone) – Has a cruisy reputation; for men of all ages. Rather seedy, with busy darkroom. Near to the Plaza de los Lobos.
XXL (Montalban 13; no phone) – Modern, stylish yet bear-dominated bar, close to Tic Tac.
6 Colours (Tendillas de Santa Paula 6; no phone) – Relatively recent addition to Granada's gay scene, with a colorful, young, trendy, dancy pre-club crowd.
Zoo (Moras 2; no phone) – Main gay clubbing venue in town, cum weekends. Large and packed, though empty pre 3am!
Geminis Sauna (Santa Cruz, 2; T: (+34) 958805126) – Videos, cabins, café, dark room, steamer and dry sauna. Mon-Sat 4pm-10pm; Sun 12am-10pm. Not far from the train station.
The two top cruising areas in Granada are the railway station, mainly the gents; and nearby Jardines de Triunfo – a sloping park at the intersection of the city's two largest streets, Gran Via and Avenida de la Constitution, fairly busy in its lower stretches at night.
OTHER USEFUL CONTACTS
Low fares airline Monarch offers year-round flights to Granada from London Gatwick. Fares, including taxes, start from £38.99 one way (£62.99 return) and include complimentary daily newspapers and a refreshing hot towel service – and there is no charge for checking in baggage, if within your 20kg allowance. A unique range of tasty hot and cold meals are also on offer with prices from £3. Seats can be pre-booked at £5 per one-way flight to avoid the last-minute free-for-all experienced on some other airlines; or, for only £15, why not try one of their 48 extra-legroom seats which offer up to six inches more space? Regular travellers are rewarded too, with a range of benefits through the airline's loyalty scheme, Vantage Club. Passengers travelling on scheduled flights from Gatwick can also avoid the queues at the airport by taking advantage of online check-in which is available between 24 and 4 hours prior to departure; or from 36 hours if you are a Vantage Club member.