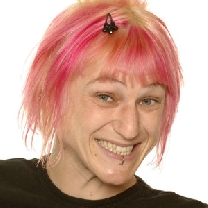 Broadcasting an apology for "serious editorial misjudgements" in this year's Celebrity Big Brother, Channel 4's hit reality programme returned with a wide mix of female only contestants.
Last week, media regulator, Ofcom ruled that the show breached its code of conduct over racist incidents involving the Indian actress Shilpa Shetty.
The show's constants, who are all women are a mix of celebrity seekers, the odd and the vaguely sane.
Chanelle, is a Victoria Beckham fan and wants to be a celebrity (just like the rest of the housemates) she says: "I want people to like me, I want to be recognised in the street."
Shabnam an unemployed wannabe celebrity told viewers: "I am an enigma, I'm striking in my presence. People love to talk to me and are drawn to me." Not understanding the concept, she says she wants to be reincarnated as Michael Jackson.
Charley, is a self-proclaimed 'it' girl, but is also unemployed. She admits to liking shopping and frequenting celebrity hangouts.
Amanda and Sam are twin blonds, who want to be like Paris Hilton.
Carole is a life-long political protester, unison member and member of previous Big Brother house mate, George Galloway's anti-war Respect Party.
Tracey is a cleaner who loves raving. She's doesn't own a passport and has never been in an aeroplane. She says her ambition is to live in a shed (given that the film of her, shown before she entered the house didn't show a house, we have no idea if that would be an improvement.)
Laura wants to be an embalmer but is currently a nanny from Wales. She said: "I talk too fast, I talk too much, I've always got something to say."
Lesley, a retired head-hunter says she mixes with Prince Charles and Camilla, Duchess of Cornwall, so the Big Brother house may be a shock.
Emily, a drama student says she's intelligent and is right-wing. She has no time for benefit cheats, so she sounds a little right wing for David Cameron's Conservatives.
Nicky was adopted from Mother Teresa's Indian orphanage. She works in a bank, says she hates men and thinks that "love is for losers."
On this year's Celebrity Big Brother there was a mix up in the voting for one eviction and in last year's a contestant was let back into the house, despite being voted out by viewers.
No word yet on any lesbians.