The following feature is available free for reproduction in full or in part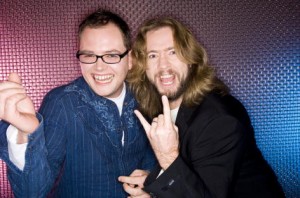 Justin Lee Collins and Alan Carr don't immediately seem to occupy much shared ground. The former is a large, hairy, affable Cornishman, a sort of cross between Chewbacca and The Wurzels, while the latter is a bespectacled, high-camp Mancunian with sharp dress sense and an even sharper tongue. But these two men are at the forefront of a new wave of young performers who represent the future of British comedy. They are also set to play yin to the other's yang as co-presenters of Channel 4's raucous vehicle for new comic talent, The Friday Night Project. The pair of them took time off from the arduous business of becoming hugely famous to reveal their thoughts on success, failure, and how not to address The A-Team's Mr T…
Let's start with names. Justin, why the three names? Are you secretly a toff?
JLC: (laughs) No I'm not. Lee's just a middle name. I just think it sounds better – if your middle name's Lee you've just got to use it. Jamie Lee Curtis, Tommy Lee Jones – you've got to use the Lee. Johnny Lee Miller – there's another. Rachel Leigh Cook – even though she spells it wrong. I prefer a double 'e'. It's more real, it's more working class, it's more honest. And it's more manly, and I'm 110% man. If I think of any more I'll just chuck them in.
Alan, do you find people ever confuse you with the stop-smoking guru of the same name?
AC: Yeah, that certainly happens. I get a lot on my website, www.alancarr.net. I got invited to Japan by a Dr Wu, who wanted me to talk about nicotine addiction. And anyone who's ever seen my website – well, it's the campest thing you've ever seen. My head's in bubbles, and you click on it and I take my glasses off. So why someone would think he was actually a proper no-smoking guru is beyond me. I should have gone, really, and just done it. 'Well you did ask me!' But I wasn't that cruel.
Anyone who's ever been to a comedy club knows what a tough business starting out in comedy can be. What on earth possessed you to want to go down that road?
JLC: It certainly is tough, yeah. I was at college to do performing arts, and just spending all my time mucking about, and I remember the lecturers there thought that I would be pretty good at doing stand up, so I thought I'd give it a whirl. I only ever saw it as a door-opener, really. I hoped it would open a few doors for me, and it did, so it was good.
So are you really a frustrated actor?
JLC: Absolutely. I'm just generally hugely frustrated, I'm a very, very frustrated man. I'm just a ball of pent-up frustration. No, I'd love to do acting, really. But it'd definitely have to be comedy. I can't do serious. It's completely beyond me.
Besides which, you don't really have the accent for Shakespeare…
JLC: And I hate Shakespeare. I think Shakespeare's rubbish.
Moving on before we outrage too many thespian purists; Alan, what made you want to get into comedy?
AC: I didn't really want to be a comedian, it's just I was working in a call centre in a really terrible job. It was in a big credit card company, and I was on the lost-and-stolen line. So after work I would just tell people about the weirdoes that the general public are, ringing up and the different circumstances in which they'd lost their cards, and they'd say how funny it was, and I should go on stage and tell it. So I did, and they started laughing, and then I won the BBC New Comedian of the Year and I thought 'oh, I'm quite good at that,' but I never really thought I'd make a career out of it. It just sort of happened. I don't really like comedy. I wouldn't go on a night out to a comedy club or anything.
But you must have comic heroes?
AC: I like old people falling over, that's what makes me laugh. I haven't really got any particular favourites. I like Peter Sellers, Frankie Howerd, and more up-to-date I like Lee Mack, who's just coming into his own. I think he's absolutely brilliant. Daniel Kitson, Ross Noble, all the usual suspects.
JLC: That's the ultimate question, isn't it. It's impossible. That's like asking someone what their favourite film is. There's so many who I've loved over the years. When I was a kid I loved Tommy Cooper. I loved Larry Grayson on The Generation Game when I was a kid. When I was about 15, at school, the greatest programme on TV was Vic and Bob's Night Out. But at the moment, my inspiration is Larry David – I'm a huge Curb Your Enthusiasm fan. I honestly think it's rapidly becoming my favourite sitcom – if you can call it that – of all time. It's just beyond comparison. It's the best thing on TV, it blows everything else away.
How did your career go to start with? Did you have to do the pub circuit?
JLC: Oh yeah. You do the pub gigs in little pub function rooms performing to audiences of seven – and that includes the bar staff. I performed to an audience of seven in Tunbridge Wells one night, and that included the staff, and that was one of the best gigs of my life. At the end of it, it had gone so well that the barman said 'Fuck Eddie Izzard, mate'. The worst ones are when you get in a car and drive for three-and-a-half hours, from Bristol to Manchester, and there'll be 12 people in the audience, and they all think 'you're shit'. It's soul-destroying.
So you've totally died on stage then?
JLC: Oh many times. I think everyone does. A lot of comedians, when they have a bad gig, will blame everything but themselves. They'll blame the crowd, or say the room was wrong, it had a weird vibe, or the promoter promoted a weird atmosphere or something. I haven't done it for four years, I retired from stand up four years ago, and have no intention of ever going back to it, because I hated it. But I think your reception is down to you. If you go on stage with the wrong attitude, or something in your performance is off, you can lose an audience in the first minute. That first minute is crucial. And to be honest sometimes, if the gig wasn't going well from the start, I wouldn't fight for it. But I've had some horrible gigs.
AC: I went over to Montreal to do a load of shows, and my first gig over there went very badly. They just weren't laughing at anything I was saying. Then I found out they were a load of Christians, and it was a gig to raise money for a new church roof. All the other gigs went brilliantly, but not that one. I think over there they're a bit hardcore with the old homos. They're not that keen on them, are they?
What's the most cutting heckle you've ever received?
AC: There was one horrible one. I was chatting to the audience, as you do, and I spoke to this man, and asked him what he did for a living, and he said 'I'm an ambulance driver,' so I said 'What's the worst thing you've seen?' and he said 'You'. It serves me right for trying to be chatty and make friends.
JLC: I've never had a brilliant heckle in my life. My experiences of being heckled were always thoroughly unpleasant – abuse, the standard 'taxi for Mr Collins' that sort of thing.
You've both seen your profiles rise and rise in recent years. Justin, what
have been the high points?
JLC: The Games, which I did last March, for E4, and Strictly Come Dancing's show on BBC3. I loved them. The most fun was The Games. I loved every minute of it. I loved working with the different guests that we had on the show. Iwan Thomas, who was my wing man, Suzanne Dando, and my co-host Caroline Fleck was brilliant. And I got paid to watch Kirsty Gallacher in a leotard. She's back co-presenting the show with Jamie Theakston this year. And doing Bring Back Grange Hill was brilliant. We've just finished doing Bring Back the A-Team. That's right up there.
Alan, you've been the warm-up man on Jonathan Ross' show for some time. Do you ever get to meet his guests?
AC: Yeah, it's brilliant. I've met Nicole Kidman, Elton John, loads of people. But it taught me you should never meet your heroes. Paul Newman was on, and I was so excited about meeting him, but they moved the show forward to 5pm because he needed to be in bed by 8pm, and he turned up and he had shell suit bottoms on, slippers, and a jumper. He was just so worn out and old he wanted to go home. Then we had James Brown on, and he started talking about his prostate problems, and I thought 'If even superstars end up like this, there's no hope for any of us, is there?' But Jonathan's absolutely lovely. He makes that job look so easy. I think he's a genius, and what a lovely guy as well. He gave me a suit to wear of his for The Royal Variety Performance – how sweet is that? Not that you could wear it out, of course. Lots of glitter. But he's a really nice guy, and has always been supportive of me.
The Royal Variety Performance was just a couple of weeks ago. How was it?
AC: It went really well. Probably the most surreal thing I've ever done – Shirley Bassey, Cliff Richard, Charlotte Church, Will Young – so definitely a gay scene! Everyone was gay who worked on the show, it was so funny.
Not just the one Queen present then?
AC: No, lots of queens. She did have a lot of competition. I met her. She said 'Lot's of variety' but she said that to everyone. But I was quite pleased that Prince Philip didn't say anything like 'I hate queers!' He was quite well-behaved.
And now you're both off to take over the new series of The Friday Night Project. That must be an exciting development for you?
AC: It's really exciting. Nerve-wracking as well, but it's time for me to take the next step, I need it right now. It'll help having worked with Justin before on a few things, and so knowing we get on. We had our first meeting yesterday, and we just laughed all the way through, so if we can bottle that and do that on the day, then I'll be happy. We just get on, and that's half the battle.
JLC: Yeah, I can't wait. I'm also really looking forward to working Alan. I mentioned Larry Grayson earlier – I think one day Alan Carr will host The Generation Game. I think he's the new Larry Grayson – he's absolutelybrilliant.
There's loads of different aspects to the show. Which part are you most looking forward to?
JLC: I love the guest host aspect of the show, where we have a different celebrity as the show's main presenter every week. I particularly like the idea of the guest host taking questions from the audience. The audience can ask the questions that, maybe, we're not allowed to. The audience don't have to pull their punches, they can ask the questions that everybody wants to hear the answer to.
AC: Definitely the interaction with the celebrity! I can't reveal any of the celebrities at the minute, but we've got some really big names lined up.
Will you be excited about meeting the guest celebrities, or have you become
inured to such mundane things?
JLC: I always get excited about meeting famous people. I'll give a little bit about Bring Back the A-Team away. When we were in LA filming, I managed to meet Mr T, and we were all, all of us, to a man on the crew, totally, totally star-struck. I still get star-struck, and hopefully I always will. And to meet someone I grew up watching and loving – it doesn't get much better. He was brilliant. He still looks great. He had cancer a few years back – ironically enough he had T-cell cancer. He's still got the mandinka – for God's sake don't call it a Mohawk or it'll all kick off. It's not a Mohawk – obviously that was worn by the Native Americans – it's a mandinka, which is the African version of the Mohawk.
AC: I still get excited about meeting celebrities, because I don't think I'm a celebrity myself. Although I did get spotted in Somerfields the other day. Someone went 'Oh, you're the man off the telly,' but I had all reduced items in my basket, so I was trying to put them back on the shelves without her seeing. Just cos you're on the telly, you still love a bargain!
What would you have done if you hadn't become a comedian?
AC: I'd probably still be in the credit card call centre, cos I haven't really got much get up and go. I'm really happy this has landed on me. I can't believe I'm on the telly – I'm so lazy.
JLC: Well, I was working in Marks & Spencers when I first left school, so if I hadn't become a comic, I'd probably be a Deputy Supervisor on Men's Footwear right now. Where did it all go wrong?
The Friday Night Project returns on Channel 4 on Friday 6th January at 10:35pm.

By Benjie Goodhart