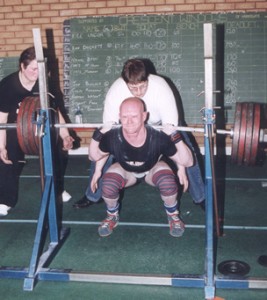 Chunky Muscle
Chris Morgan, the current reigning Gay Games Powerlifting champion, and continues to add to his ever- growing collection of honours with each competition he enters. Bent talked to one of the few openly gay athletes about his lifestyle and his sport.
Chris is never far away from the gym, training and forcing his body to do what he demands it to do. The effort involved in becoming a champion is never easy but why did he take up this particular sport of powerlifteing?
Back in 1998 there was a direct personal choice between bodybuilding and
powerlifting. My decision was based upon past injuries, with a torn left pec and reconstructed right knee, I was never going to make a World class bodybuilder. I would never have been able to gain the symmetry required. I've always been unusually strong in Squats and Deadlifts. At that time Jim Atkinson was my first coach, who I met at Soho gym in London. He politely questioned my lifestyle of the time of taking drugs and the gay party circuit and showed me another way. He suggested that my raw strength could be channelled productively and introduced me to the Gay Games. The experience of a major sporting event, based upon inclusion, participation and pursuit of personal best changed my life forever.
How long it was before you competed?
I've always lifted heavy weights from age of 16, but my first competition was Gay Games 5 in Amsterdam. I won a Silver Medal, which inspired me to continue competing. I then won Gold in Sydney at Gay Games in 2002 and Four Gold Medals in Chicago last July. It wasn't until 2004 that I really broke through barriers in Mainstream competition. I've competed in three World Championship Finals 2004, 2005 and 2006 and took Silver, Gold and Bronze. I feel very honoured and privileged to represent England as an openly gay man.
What influence being gay has had on your choices?
I've found many case examples of gay slurs being used by sports people, to unsettle an opponent. I look at this whole concept from another angle and see my sexuality as an advantage when competing. The fact that I'm totally at ease with being a "fully paid up member of the club" puts me in the driving seat. Opponents probably realise that by using homophobic terms they're only going to improve my performance, by adding fuel to the fire.
In 1998 we took the decision that it was best to be open about my sexuality. England and Great Britain powerlifting management have been extremely supportive of my career and I'm very grateful for the acceptance they have shown.
Do you get support from anyone – boyfriend, family member, sports council?
I'm currently single but my family are amazing and are my biggest supporters.
I'm an Ambassador for the Federation of Gay Games, who gives me massive support and encouragement. The Gay Games movement is very large and not a day goes by without an email of support arriving. I've just joined the Football Associations Advisory Group on Homophobia and will be consulting on their 'Kick it Out' campaign.
Do you get nervous before a competition?
I never have any nerves I'm Ice Cold.  Winning world medals is about handling and managing pressure. I'm not the strongest lifter in the world in my weight class, but have a record of delivering when the stakes are high.
Highlight of career so far?
Every medal is a blessing.
Five Gay Games Gold Medals (Sydney 2002 and Chicago 2006) and World Championship
Gold (Turin 2004).
Winning the British Championship in 2005.
I was overall Strongest man at Gay Games in Chicago and outlifted the super
heavyweights. That was a sweet moment!
The FA has recently introduced me to Umbro who have become my sponsors. So getting a positive response from Umbro as my kit sponsor was great after 8 years of negative responses. I've lost count of the times that negotiations have stopped at the point of my sexuality becoming known.
Best Lifts 237.5 kilo Squat, 120 Kilo Bench, 257.5 Kilo Deadlift. Best Total 600
Kilos all at below 75 Kilo Bodyweight.
Hoping for some even bigger lifts in 2007 !!!
Chris Morgan is a Gay Games and World Championship Gold Medallist in Powerlifting.
He is an Ambassador to the Federation of Gay Games and Cologne 2010.
To find out more about this inspirational and well-focused sportsman, visit his fantastic website at chunkymuscle.com
www.gaygames.com
www.games-cologne.com