Benidorm? Si!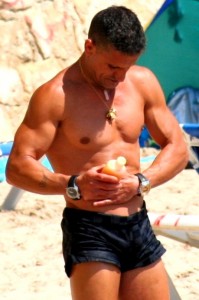 Benidorm has been entertaining gay visitors since the early 1970´s in the tiny streets of the old town and has grown into a large vibrant gay village with 40 venues including three saunas and gay friendly hotels just seconds from the bars. Sun, sea, sand and sex really does sum up this resort. With five kilometers of blue flag beaches, over 1,000 places to eat and drink and mainly Spanish visitors (yes despite what you have read it is a Spanish resort). Benidorm offers 24 hours of fun every day. Surrounded by mountains which keeps the rains away and the temperatures high this is a resort for the sun worshipper who enjoys perfect beaches without having to troll for miles to find them.
In the gay village you will find all manner of bars to chat, drink, dance and get your end away. Satisfying most tastes from twinky to kinky in a truly friendly atmosphere and with many bars offering dark rooms filled with your lovely Spanish hosts you will not be disappointed. The underlying feel good factor created in Benidorm by the many ex-pat bar owners makes this resort ideal for those who enjoy a good time without the need for designer labels and the posing scene often found in the likes of Sitges.
Peak seasons March to June and September to December.
Transfer from Alicante airport 45 minutes.
Average cost for a beer 2.50€
Best tip – Hire a car to explore the coast and visit the superb gay beach at Raco Conil