Out of the shadows with Bonnie Tyler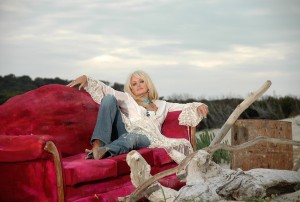 Taking a moment out from her busy schedule, Bonnie Tyler speaks to Adam Lowe about her new single with BabyPinkStar, kicking the Black Eyed Peas' butts and David Gest.
Bonnie has one of those voices that immediately puts you at ease, as if you were talking to an old friend about the weather.  With delicious Welsh tones and a relaxed demeanour, Bonnie is every inch the humble star untouched by fame.
How did you end up recording a new version of "Total Eclipse of the Heart" with BabyPinkStar?  What were your initial thoughts on their version?
They'd been covering the song for a while at live concerts and when they sent me a copy with my vocals lifted from a recent re-recording of the song, I was like: I'll have to ask Jim [surname] about this!  It was certainly different from the original version and Jim loved it.  All he asked was that they pump up the guitars at the end of the song, which they did.  I actually really like it now.  It's different but that makes it more fresh.
How did it feel to see your work in a new light?
Well I think it's one of those songs that's evergreen, you know?  I love returning to it and it's a great song to perform live with my band.  Did you know it was re-released two years ago in the French-speaking countries as a duet?  It stayed at number one for twelve weeks and we managed to keep the Black Eyed Peas off the top spot.  They went to the top everywhere else, but we stopped them in the Francophone charts.  It's still a widely played song and it's one I never get tired of.
Do you have any plans for the immediate future?
Well David Gest's producing the All-Star Soul Spectacular over the London New Year weekend and he's invited me to take part in that.  It's an amazing line-up, with Candi Staton, Carl Carlton, Billy Paul, Deniece Williams, Martha Reeves, Russell Thompkins, Jr, and Dorothy Moore.  It's at Cadogan Hall from 29th December to 31st January.  And of course the single's out on 29th January.  It was going to be released in December and I wish they'd stuck to that original date, but hopefully if it gets played over the Christmas period then that means afterwards it might have picked up even more momentum.  I'm confident it will do well.
As the conversation comes to an end, I thank her for her time and she wishes me a good day with genuine geniality in her words.