Violent Murder Fuelled By Homophobia?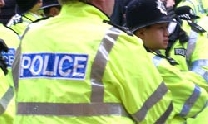 A man who was kicked to death on the doorstep of a closed police station was rounded on because his attackers believed he was gay, reports The Sun.
Stephen Langford, 43, St Anne's Court in Henley-on-Thames, was knocked to the ground and kicked in the head in the town's Greys Road on Saturday.
The yobs picked on Langford after seeing him in a pizza restaurant with a young man. The father-of-two's death has rocked residents in the posh Oxfordshire town known for its royal regatta.
Prior to Mr Langford's death there had not been a murder in Henley for over 60 years. The telecoms manager was punched to the ground and was then kicked until he lost consciousness in the early hours of Saturday.
A policeman on a routine patrol later found his bloodied body and tried in vain to resuscitate him.
Detective Chief Inspector Pete Dowling said the death was being treated as a murder inquiry.
"While there is no suggestion at this stage that any weapons were involved, the attack on this man was extremely severe, and involved him being punched and kicked in the head".
Local MP Boris Johnson, a friend of Mr Langford, said: "It has come to something when a man can be kicked to death in one of the safest towns in England and right in front of the local police station.
James Diggins, 19, of Devon Drive, Caversham Park Village, Reading, and a 17-year-old male youth have been charged with murder.
They are appearing at Oxford Magistrates' Court today, a Thames Valley Police spokesman said.